Cross Country Teams Prepare for Bill Sudeck Classic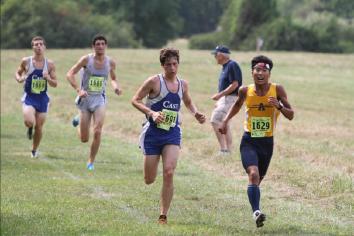 With the Bill Sudeck classic looming close over the horizon, the men's Spartans cross country team is preparing to enter competition. The Classic, happening this coming Saturday, will be hosted by both the men's and women's Spartans cross country teams. The men's team will be led by four returning runners, all with NCAA tournament experience under their belts.
The men's cross country team consists of 38 runners, 23 of whom are returning from last year. "We are excited to return so many runners that have experienced success at the highest level," Head Coach Kathy Lanese told Case Sports Information in an interview. "Our young men had clear-cut goals last season, and it was their incredible determination and teamwork that got them to nationals. Many from this year's team were a key part of that journey, and I am expecting them to carry that momentum throughout the fall."
The 2012 team managed to win an All-Ohio Championship and finished fifth in the UAA, their highest place finish in five years. This year, they will attempt to best their previous successes.
Returning from the 2012 squad, now as captains, are seniors David Dixon and Wyatt Hoch. Dixon, a mechanical engineering major, competed in all seven varsity races during the 2012 season, and placed 137th in the nation at the NCAA Championship Meet with a time of 25:55.90. In 2011, he finished 14th at the Bill Sudeck Classic and 69th at the UAA Championship Meet with an 8k time of 28:20:04. He was also clinched UAA All-Academic Honors in both 2011 and 2012. Hoch, a biochemistry major, placed 16th in the 2012 Bill Sudeck Classic, with a 6k time of 21:05.90. He also finished 68th at the 2012 UAA Championship meet, with a time of 27:11.30. In 2011, he placed 73rd at the UAA Championship Meet, finishing with an 8k course time of 28:58.67.
The team consists of 16 sophomores, 15 freshmen, a single junior, and seven seniors. "The experience and the talent is definitely there for this team to pick up where it left off last season," said Lanese. "With that said, there is still plenty of room for growth, and it will be exciting to watch different student-athletes step up into bigger roles this fall."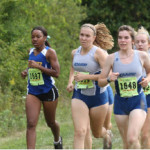 The women's Spartans cross country team, also with a pair of All-Great Lakes Region performers, has six of last year's seven runners returning. "Our goals each season are aimed towards nationals," said Lanese, who also coaches the women's team, in an interview with Case Sports Information. "With the amount of experience and depth we have on this roster, we are excited about where we can be at the end of the fall."
The women's roster consists of 20 runners, only three of whom are seniors, so leadership is concentrated within the younger ranks. Sophomores Kelsey Aamoth and Lydia Greene will lead the team. Aamoth was named the Nancy Gray Rookie of the Year during the 2012 season, and competed in all six varsity races. She posted a time of 22:49.30 at the 2012 UAA Championship meet, finishing 13th. During her first race as a Spartan, the 2012 Bill Sudeck Classic, she finished first in the 4k with a time of 15:28.80. Greene finished 22nd in the All-Ohio Championship with a 5k time of 19:07.38, and placed 14th in the UAA Championship Meet with a 6k time of 22:50.1.
"Kelsey turned in some of the very best times for a freshman, both in cross country and track distance events, since I have coached here," said Lanese. "Not only did she succeed athletically, but she maintained a 4.0 GPA in biomedical engineering. But, with all of that success, she continues to work as hard as anyone, and I am excited to see what she will accomplish in her second year."
Both the Spartans women's and men's cross country team will open the season with the 13th Annual Bill Sudeck Invitational, and have an intensive schedule, including the All-Ohio Championship on Nov. 2 and the NCAA Great Lakes Regional on Nov. 16.