CWRU Annual Constitution Day program will discuss marijuana legalization and federalism
Third-year student Elijah Newcomb hadn't heard of Constitution Day until his first year here at Case Western Reserve University (CWRU), but now he serves to bring discussion on the U.S. Constitution to CWRU's campus.
On Sept. 19 from 4 to 5:30  p.m., CWRU will hold its annual Constitution Day program in the Moot Courtroom at the School of Law. Jonathan Adler, a professor from CWRU School of Law, and Brannon Denning from Samford University Cumberland School of Law will speak to educate members of the CWRU community on both marijuana legalization and federalism issues.
"We can find many speakers who understand the landscape of marijuana, but finding speakers with knowledge of state, federal relations and constitutional law is more difficult," said Newcomb.
Each year, the Constitution Day committee, which consists of CWRU undergraduates, chooses a relevant topic that will pique students' interests. The state of Ohio recently legalized medical marijuana, and although it won't be operational in the near future, the committee decided it was pertinent. As students who are interested in constitutional law, members of the committee work year-round to formulate questions that are thought-out and articulate to ensure a successful event.
Newcomb believes cogent political discussion provides better understanding of the constitution for students.
"It's a way for us to teach without lecturing and being stiff."
For second-year panelist Jacob Sandstrom, the experience has been a rewarding intellectual challenge to explore constitutional issues related to marijuana legalization.
"It is imperative that responsible citizens contemplate the Constitution, realizing its past, present and future implications," he said.
Rather than taking the event in the form of a debate, the committee wants to emphasize a discussion-based approach. Instead of taking a side, participants will ponder how they will apply the Constitution to further understand what the marijuana industry is going to do in the future.
About the Writer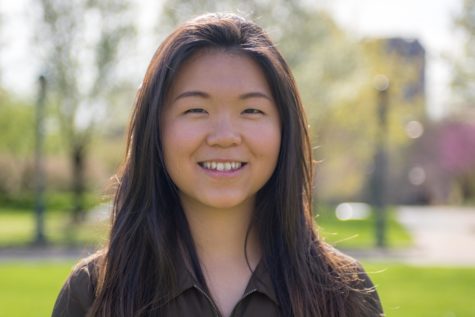 Ashley Chan, Director of Web & Multimedia
Ashley Chan is a second-year student studying economics. Ashley likes to lift. If you wish to contact her, you can email her at axc627@case.edu.