CWRU falls in recent undergraduate rankings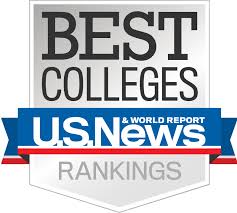 In U.S. News & World Report's recently published 2019 Best Colleges lists, Case Western Reserve University came in at No. 42 for National Universities, a considerable dip from last year's position of No. 37. This is the first time in eight years that the University has ranked below No. 40 on the list.
The reason for the drop is best explained by the publication's new methodology which altered the weight of several categories related to undergraduate admissions. In an effort to emphasize two social mobility factors, some of the existing categories were weighted differently, while others were eliminated completely.
One of U.S. News' social mobility factors analyzes the graduation rates of Pell Grant recipients, and the second compares the graduation rates of Pell recipients to the rates of all students. These two factors combined constitute five percent of the ranking's formula.
The two social mobility factors, according to Inside Higher Ed, were determined using a formula based on the magazine's outcomes measure, which includes student graduation rates and the performance of various student demographics based on their projected graduation rates. This year, the weight of the outcomes measure increased from 30 to 35 percent. At CWRU, 78 percent of Pell Grant recipients graduate in six years, which is five points less than the same rate in the context of all students.
Social mobility in the context of higher education is the concept that disadvantaged families can use academic resources to achieve at least a middle class standing, a highly contentious issue at universities across the nation.
"I'm glad to see the drop in ratings, as it reflects that CWRU has consistently skirted their responsibility to educate disadvantaged students," said fourth-year student Andrew Thompson. "As a student whose family comes from the lowest income bracket, I feel that [the University] has made it clear that they do not care about poor students."
Undergraduate Student Government (USG) Speaker of the General Assembly and fourth-year student Prince Ghosh noted that there "definitely still is a socioeconomic divide" in the CWRU community.
He said, "I think the University has been willing to make more changes to bring more diversity to campus, but there's still so much more we can do to make [CWRU] more welcoming."
U.S. News also decreased the weight of the expert opinion category by two and a half percent, from 22.5 to 20, which is a formula component based on surveys of administrators in higher education and high school counselors.
While the University said in a statement to The Observer that it "will not take specific steps in response to [U.S. News'] addition of two categories to the criteria included in its rankings methodology," it emphasized two initiatives that launched between the 2016-17 admissions cycle and this past spring that will likely improve the University's performance on the magazine's new methodology over time.
"During the 2016-2017 admissions cycle, [the University] implemented 'Meet Full Need,' a new admissions policy specifically designed to (a) reduce students' debt burden and (b) increase the number of economically disadvantaged students financially able to enroll," it said in the statement.
The second initiative, which the University said will enhance students' individual experiences and contribute to higher graduation rates, was the Student Success initiative, "which aims to provide students support and information in a more timely and coordinated manner."
Thompson, however, was skeptical about the University's attitude post-release of the 2019 Best Colleges list.
"It's unfortunate to think that CWRU will likely only care about educating students from less privileged backgrounds now that their rankings are affected," he said. "Some easy first steps would be changing our admissions policy that makes decisions in part based on ability to pay and no longer stripping students of grant aid for moving off campus."
CWRU denied that the rankings drive academic or related decisions, but acknowledged the list's impact, stating, "Rankings are shown to affect the perceptions that prospective students and their families—and in some cases, prospective faculty and staff—have about a college or university."
It added, "In this context, rankings matter to Case Western Reserve, because they can affect whether we have an opportunity to show such individuals more about the University and all it has to offer before they make a decision."
Ghosh assured that USG has and will continue to work with the University's administrators to ensure admissions transparency.
"I don't know if we should make decisions immediately as a knee jerk response," Ghosh said on the topic of changing University policies in lieu of the U.S. News ranking drop. "These macro level policy changes often take a few years to come into full effect. Again, what USG should continue to do is closely monitor statistics alongside admissions."