CWRU libraries seek external review after low funding, ranking
Due to the fluctuation in the Case Western Reserve University library budget and the rising cost of library materials, over 900 journal titles in the past six years have been cancelled from subscription. Due to their small budget, CWRU libraries to rank 107 out of the 114 libraries in the Association of Research Libraries (ARL). The Faculty Senate Committee on University Libraries (FSCUL) is seeking support from the Faculty Senate and the Office of the Provost to review the library funding system.
Since 2010, Kelvin Smith Library (KSL) has conducted two large scale journal cancellations for the College of Arts and Sciences, Case School of Engineering and the Weatherhead School of Management, while the CWRU School of Law library has also cancelled more than 600 journal titles. The cancellations were intended to partly offset the impact of an estimated five percent increase in content acquisition cost, in a time when the overall library budget was increased at less than two percent per year on average.
Meanwhile, CWRU libraries' ranking among nationwide research libraries has experienced a consistent drop from 102 in 2011 to 107 in 2015. The only private university that ranks below CWRU is Howard University, while the University of Rochester, the next lowest peer of CWRU on the ARL ranking list, ranks the 73rd. The ARL ranking evaluates each research library by its overall budget. Private universities that are members of ARL on average spent over 42 million dollars on their libraries, while CWRU libraries operate on around one third of that amount.
The limited budget available for content acquisition has a direct impact on students and faculty. CWRU libraries rely heavily on OhioLINK to compensate for their current collections. OhioLINK allows users to access books from OhioLINK-participating institutions by ordering books from other regional libraries to be delivered to CWRU libraries. The delivery process usually takes around five days.
"If you can put stuff in the same room in the same building in the stack, and you need a book and it's right there… while you are thinking of the problem, you can move so much quicker," said Paul Iversen, the chair of FSCUL and a classics professor. "If it's not there you have to waste time to ask for it, then you have to wait a week or two to get it, and by this point, I am getting old, I have to write a note, why am I requesting this book, what do I need it for, then I have to waste time doing all that, it wastes a lot of time."
Iversen also pointed out that because of the difficulty in accessing certain books, some students need to give up their research topics. On the other hand, although many of the journals that were cancelled have electronic versions that CWRU libraries continue subscribing to, there are instances where the journals are neither published online nor subscribed to by the libraries. In those cases professors have to pay for the journals they need out of their own pockets.
Along with Arnold Hirshon, the associate provost and University Librarian, FSCUL is looking to change the situation by initiating an evaluation of the current library system at CWRU. On March 9, FSCUL unanimously passed a statement that recommended an external review of CWRU's entire library system by a site visit committee or a consulting firm. The statement was then passed by the Faculty Senate Finance and Executive Committee and will be presented in the last Faculty Senate meeting of the semester on April 27.
The University Libraries are funded by contributions collected from individual colleges. Each year, the Central administration assigns a budget plan for the overall operations of CWRU libraries. Although in general CWRU libraries spend more than half of their budgets on purchasing materials, the expenditure on acquisition has been experiencing an average of near zero increase since 2011.
William Claspy, a KSL research services librarian, pointed out that compared to other ARL members, KSL "spends a greater proportion of our overall budget on materials than on other things."  
"We are very efficient on what we do have, we just don't have a lot compared to some of the other places," he said.
Iversen thinks that the problem lies in the current funding mechanism of university libraries. The contribution for using library services is levied on each college based on a formulae that Iversen found "not particularly transparent."  
On the other hand, Iversen pointed out that the content acquisition cost can be easily overlooked under the current funding mechanism.
"The university gets an increase of 3.25% in its budget every year…the increased money has to go towards our salaries and towards all these various things," said Iversen. "In this horse trading… the content portion of the libraries is left out, in that mechanism, in that process."
Iversen stressed that the inflation rate in content acquisition cost must be considered an unavoidable expense and be given more attention. The current funding system leaves the acquisition budget out as it tries to meet budgetary demands in other increases such as faculty salaries.
"We can't keep on this path, because the future comes more quickly than you will, and it has already arrives at the library… This trajectory is disastrous for this university, it impacts student research, it impacts faculty research, it will impact our rankings, and we can't keep relying on OhioLink to save us," said Iversen.
Inversen was hopeful that the proposal for an external review of the CWRU library system will be favored by both the Faculty Senate and the Provost. Hirshon, who worked with Iversen on the proposal, has been advocating for an expansion on acquisition budget to the university administration.  
"I think they [the administration] are listening," said Claspy. "I don't think it has amounted to large increases in our budget. We still have to deal with the reality of almost flat budget increases. We haven't seen substantial increase in our material budget, unfortunately."
About the Writer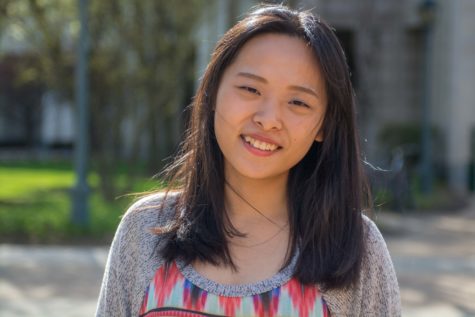 Celia Wan, News Editor
Celia Wan is a sophomore majoring in mathematics and history. She joined The Observer in the fall of 2015 and became the news editor at the end of her...