CWRU considers dropping its need-blind admissions
Vice President for Enrollment presents idea at USG meeting
Case Western Reserve University's admissions may soon be need-blind no longer, meaning that in the future CWRU would need to consider finances along with other admissions criteria, as opposed to the current system of not looking at student finances during admission decisions.
On Nov. 3 at the Undergraduate Student Government's (USG) open general assembly meeting, Vice President for Enrollment Richard W. Bischoff presented that CWRU is considering using the new Coalition Application and becoming need-aware during the admissions process.
The Coalition Application would be offered along with the current Common Application, but it would allow high school students to begin applying for college as early as ninth grade. By taking a portfolio approach, the new application would allow for more personalization from each applicant.
However the Coalition Application would also require private institutions to move toward meeting 100 percent of financial need, meaning that CWRU would provide aid to cover all of the tuition and housing costs not covered by what CWRU expects students and their families to pay. According to the College Board, CWRU currently covers 87 percent of students' need.
Bischoff and students of the general assembly expressed concerns and benefits about the new application. The new policy would require an additional projected $15-20 million annually in order to meet 100 percent of financial need, corresponding to $500 million in additional endowment, which could contribute to significant reductions in faculty and student activities.
Despite a potential drastic change in monetary allocation for student financial aid, Bischoff noted the importance of bridging the gap between students' different economic backgrounds within the university.
"What we see as the years go by is that fewer and fewer lower-income students are able to come to Case Western Reserve University," said Bischoff.
CWRU is currently need-blind, so the university does not consider financial backgrounds during its admissions process. This current policy discourages many students for whom financial aid is a concern from attending the school. A disparity in income distribution is prevalent in many selective colleges, where there is a large percentage of students from low-income backgrounds and high-income backgrounds.
"It makes us harder to be need-blind," said Bischoff. "Middle-income families deserve great options for their children to go to college as well."
The USG academic affairs committee presented further concerns for the body to take note of, questioning: How does the university's fundraising campaign, which is focused on undergraduate scholarships, impact CWRU's decision to become need-aware? Does CWRU's recent decision to offer Early Decision (binding admission) obligate them to meet 100 percent financial need? To what extent does CWRU's potential interest in the Coalition Application affect their decision?
USG Vice President of academic affairs Nishant Uppal noted that the Coalition Application may limit accessibility to low-income students and may also impact merit scholarships and grants CWRU is able to give out.
About the Writer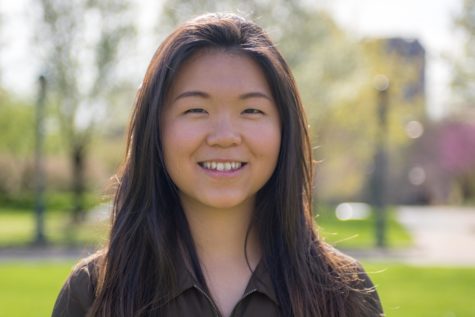 Ashley Chan, Director of Web & Multimedia
Ashley Chan is a second-year student studying economics. Ashley likes to lift. If you wish to contact her, you can email her at axc627@case.edu.