CWRU renames men's basketball locker room after Mark Termini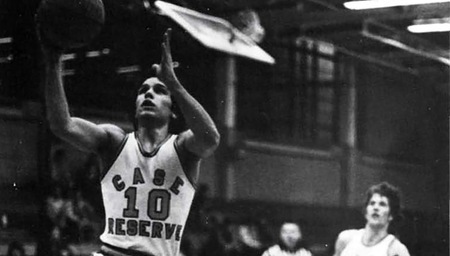 Prior to the game against the University of Rochester on Friday, Feb. 10, Case Western Reserve University announced the official renaming and dedication of the Mark Termini Men's Basketball Locker Room.
The locker room is named after former Spartan basketball athlete Mark Termini, whose contributions funded the space's renovation. The modernized locker space includes new lockers, carpeting, refrigerators, wall art and audio-visual technology.
"I think the name change and the renovations to the locker room are great," said second-year forward Umar Rashid. "Although I've never met Mr. Termini, I think it's amazing the amount of support he has for us and it's great that he is giving back as much as he is … Mr. Termini was a great player for [CWRU] and we are all very grateful for what he has accomplished and continues to do for this program."
"It is great to be able to walk in and be reminded of Mark Termini and the legacy he left on the basketball program," added graduate student guard Mitch Prendergast. "It is definitely inspiring for us."
When asked what the best new locker room feature is, Rashid said, "I can say with certainty that the team's favorite new addition to the locker room is our speaker that gets the team turned up."
Prendergast agreed, saying, "Now we are able to listen to music before games, and really blast it after big wins."
Termini, who played for CWRU from 1974-1978 and was inducted into the Spartan Club Hall of Fame in 1994, ranks in the top 15 players in school history, with 1,161 career points. He is also fifth all-time in career assists with 258.
"I understand and respect the dedication, discipline, and effort required to play and coach Varsity Basketball at CWRU," said Termini in an interview with the CWRU Athletic Department. "I am pleased to acknowledge those efforts and support the program in this small way."
After attending CWRU, Termini established a sports agency titled Mark Termini Associates Inc., which has represented professional basketball players, coaches and executives for more than 35 years. Termini has negotiated more than $2 billion in professional sports contracts, including the landscape-changing return of LeBron James to Cleveland in 2014.
"Mark remains one of the most prominent players in program history, and his generosity since the end of his playing days will allow his impact to be felt by generations of Spartan players to come," said head coach Todd McGuinness. "We are grateful to have his support as we continue our quest to compete for conference and national championships."
Termini's constant support is incredibly appreciated by everyone on the team as emphasized by Prendergast, who added that when Termini saw "a picture of the locker room and … the fridge was empty, he immediately made sure that we had drinks in there the next day. Even though this seems little, it really meant a lot to us."
The Spartans are currently tied for first in the University Athletic Association rankings. They are in the midst of one of the best seasons in program history, sporting an 18-3 overall record and 8-3 in the UAA. They have won six straight conference games—the best streak in CWRU history. CWRU will conclude their season on the road, hoping to return to the DIII NCAA tournament for a deep playoff run.
There is no doubt that the hard work and constant support of CWRU players, coaches, parents and alumni play a pivotal role in enabling our athletics programs to succeed at the highest levels.
"With the basketball program really starting to become successful, it means a lot to us to have alumni supporting us," reflected Prendergast. "Now after having the Mark Termini locker room, we are again reminded that while these wins mean a lot to us, we also have a lot of backing behind the scenes as well."