CWRU school of nursing fights lead poisoning
In 2014, as the Flint, Michigan water crisis began, five percent of children tested had lead poisoning, according to the Center for Disease Control.
That same year, Cleveland had its own crisis. According to the Cuyahoga County Board of Health, the rate of lead poisoning was nearly triple that of Flint, at 14.2 percent. In East Cleveland, nearly a quarter of all children tested had dangerous levels of lead in their blood.
Armed with a $300,000 grant by The Elisabeth Severance Prentiss foundation, the Frances Payne Bolton School of Nursing at Case Western Reserve University has launched a screening program. The program is led by Assistant Professor Marilyn Lotas and will offer lead testing to children between three and five years old, free of charge.
"We know kids have really negative effects from high lead levels: IQ is lower, school achievement is lower, they have more behavioral problems, they leave school earlier and they're more likely to go to prison," said Lotas. "There are all kinds of things affected by lead because it affects the nervous system. It has a general negative effect on the person."
According to Lotas, around 60% of the children in Cleveland are not tested for lead.
The program, Partners in Health, is a collaboration between the nursing school, the Cleveland Metropolitan School District (CMSD), the City of Cleveland Department of Public Health and the MetroHealth School Health Program.
The program will test students between three and five years old enrolled in CMSD pre-kindergarten and kindergarten programs, with test results being sent to the school district and the parents. Children with high levels of lead will then be referred to treatment and have their homes screened by the health department.
Graduate students will follow up with parents whose kids test between five and 10 micrograms of lead and teach them strategies for how to reduce lead exposure. Children with over 10 micrograms of lead in their blood go into a separate category, and the county will test the child's housing for lead levels. If the child's lead levels are extremely high, they will be treated medically.
In the spring, the program will screen three schools. By the end of the three-year program, Lotas said she expects to be testing 50 schools.
"This fall, we are going to be starting a community education program to get parents working with us on this. In the spring we'll start screening. We'll ramp up fairly quickly [and] in the second year we'll screen three to four times as many schools. Then in the third year, we would like to screen all of the schools that have a pre-K," said Lotas when asked about her plan for the program.
For Lotas, the ultimate goal is making a program that will be sustainable after the grant ends.  
The CWRU nursing school has been working with CMSD for about 14 years, according to Lotas. The school started off doing state-mandated screenings, along with screenings for hypertension. Partners In Health is an expansion of that earlier program.
"They had 50,000 kids and about 50 nurses, and there were lots of things that couldn't get done," said Lotas.
Unlike Flint, where the poisoning was due to old pipes, the problem in Cleveland is caused by old housing.
"The story in Cleveland is all about lead paint. The risk from water is exponentially lower than the risk from lead paint. I think the factors that come together to make it particularly bad here in Cleveland are old housing stock [coupled] with poverty concerns that make it hard to maintain these older homes," said Associate Professor Robert Fisher, Co-Director of the Center of Urban Poverty and Development at CWRU. "Most of the risk is from lead dust and paint chips occurring at window sills and door jams."
According to Lotas, 90 percent of the housing in Cleveland was built before 1978, when lead paint was made illegal.
The city has tried to mitigate the risk of lead exposure. According to Fisher, Cleveland will tear down or renovate properties that have high lead levels. The Cleveland rental registry recently began flagging properties that have exhibited lead in the past, enabling families to avoid high-risk homes.
"The first indication that lead is a problem is when a child shows up with a positive lead test, and that's so late in the game,"said Fisher. "We're using children as canaries in the coal mine to tell us that lead is there, but the damage is already done at that point."
About the Writer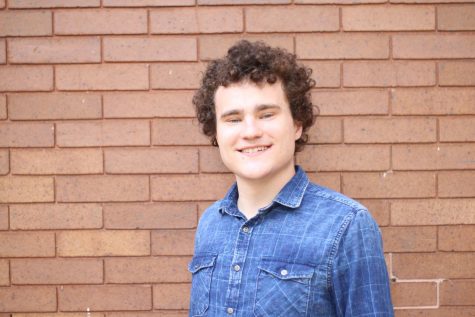 Matt Hooke, Executive Editor
Matt Hooke, The Observer's executive editor, is a fourth-year student studying English. This is his first year as executive editor after spending time...