CWRU Thoughts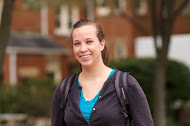 The Case Western Reserve University community is known for thinking beyond the
possible. Each week, this column aims to capture a slice of campus life.
Q: How did you spend your summer vacation?
A: I spent my summer interning with the refugee and immigrant center over on the west side of Cleveland. I got to teach citizenship classes and help with immigration questions—I did the legal research for that. It was just really cool seeing everybody work to become American citizens and work to become what so many of us take for granted every day. It made me really appreciate the blessing I have being an American.
Q: Is this related to your future career interests?
A: Yes, in some aspects, I'd like to be an immigration lawyer. I spent several months in Houston, Texas as a missionary, and I was working with a Spanish-speaking population and a lot of immigrants. I realized there was a big need here and that I would be doing myself a great disservice if I didn't try to help out.
Leave a Comment
About the Contributor
Maria Fazal, Copy Editor
Maria Fazal is a senior majoring in psychology and bioethics. She is the Arts & Entertainment Editor for The Observer. Hailing from a small Ohioan...