New counter is not Thwing's only change
In efforts to bolster student life and culture, Thwing Center is undergoing various changes to make it more central to the student experience.
A light wooden counter branded with Case Western Reserve University's logo, lighted shelves with clear jars of candy and butter popcorn and a United States Postal Service substation has found its home in the Thwing atrium to give direction and serve students, but additional changes above and underground are also shaping Thwing.
Past the counter and down the stairs, students are greeted with newly painted blue and grey walls. Back through the atrium, into the West Wing and up the stairs there are meeting rooms and a renovated Spartan Room. There, the walls have been freshly painted a deep royal purple where Greek crests of different sororities and fraternities on campus are proudly displayed.
On the third floor, artwork suggested by the Undergraduate Diversity Collaborative (UDC) has been added to increase representation of the different cultures at CWRU. More artwork will be added as representatives of the University Media Board, UDC, Undergraduate Student Government, IFC/Panhel, Thwing Study Over and University Program Board convene as the Thwing Student Advisory Board to discuss what will represent more diversity. The Board has influence on what changes need to be done to further improve Thwing and provide more beneficial services for the students.
"I want people to feel a part of something" said Arlet Wright, Director of Thwing. "The president's [who created Thwing] legacy was about the students."
Additional projects and planning to bolster Spartan spirit and culture are underway to allow students to rethink Thwing as their own space.
This is Thwing as Wright envisions it: a space that complements the academics, resources, organizations and spaces of Kelvin Smith Library and Tinkham Veale University Center to create a hub at the heart of campus. As a part of the Division of Student Affairs, Thwing is run by the students and for the students. By day, students learn in classrooms and get lunch. By night, students use Thwing as a resource that accommodates a wide range of environments for student involvement, including programming spaces, meeting rooms, study areas and a place to unwind.
"When people walk into Thwing, I want them to know they are at Case Western Reserve…" said Wright. "I'm driving on students."
About the Contributor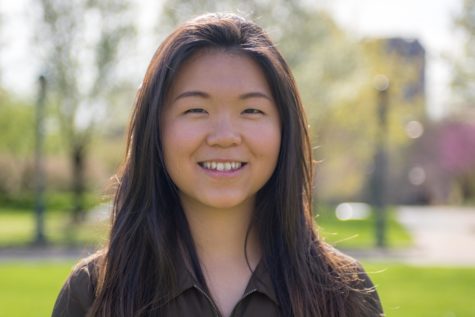 Ashley Chan, Director of Web & Multimedia
Ashley Chan is a second-year student studying economics. Ashley likes to lift. If you wish to contact her, you can email her at axc627@case.edu.