CWRU track and field team breaks several records at All-Ohio Championships
On Saturday, Feb. 13, at the All-Ohio Championships at Otterbein, the Case Western Reserve University track and field teams broke multiple records for the school and conference, allowing the men's team to finish sixth and the women's team to finish ninth out of 17 teams.
The Spartans were led by record-breaking performances by first-year students Olivia Newman and Rasheed Ajala, second-year student Sam Merriman and third-year student Temi Omilabu. "I would like to say that it is special, but I have to be honest with myself that it is becoming very second nature," said Ajala "If I hit that time once and never hit it again then clearly I'm doing something wrong, but the fact that I keep getting better week by week, shows that training is paying off, and I'm on the right track."
Newman beat her old school record on the 400-meter dash by 0.21 seconds, finishing with a new school record of 59.22 seconds, which placed her second in the event. She also contributed in the 4×400 relay.
Ajala finished the 60-meter dash in 7.13 seconds. Although he finished ninth overall in the meet, his time broke his previous school record by 0.03 seconds, and ranked second overall in the season in the University Athletic Conference (UAA). "It just goes to show that sprinting in Ohio is one of the most competitive in the country, " said AjalaI grew up in Ohio, and I was recruited by many of the dominant sprinting schools in the state, so I knew what I had to face to become one of the best sprinters in the state. What truly matters to me is that I outperform the other sprinters in the UAA conference, and help lead the team to win for the first time in many years. The fact that I'm setting myself to do so, is an extremely great feeling."
Merriman did not just win the 5,000-meter run; he also beat the meet record and UAA season record with a time of 14:45.45. The meet record that Merriman was able to beat was earned by CWRU's Aaron Johnston-Peck in 2006. Johnston-Peck also holds the school record for the race, which Merriman missed by just one second.
Omilabu, who has been having a stellar season thus far, beat a school record on weight throw again, with a whopping distance of exactly 17 meters, which also became the furthest distance thrown in the UAA this season. Omilabu's previous record was 16.54 meters. "It's special every time, and it's a good reminder not to be complacent," said Omilabu "Despite the record, I know that I have to keep pushing myself and working hard. I can't rest on my oars, especially with the UAA Conference Championships and Nationals coming up, where I'll be competing against a lot of other really talented athletes. What really matters is how I do on the day of the meet, not the numbers I have beforehand."
Another UAA-season record was obtained in the distance medley by third-year students Olivia Zabrodsky and Abby Casalnova and fourth-year students Juliana Ross and Kelsey Aamoth. Their time of 12:36.79 earned them third place in the meet.
The men's 4×400 relay, which consisted of first-year student Joseph Cabral, second-year students Andrew Ibibo and Grant Mlack and third-year student Nathan Wahner, missed a school record by under a second, but finished third in the meet with a time of 3:23.86.
Part of the track and field team also competed in the Mid-February Meet on Friday, Feb. 12, at Baldwin Wallace. The women's team finished fourth out of 13 teams, and the men's team finished 11th out of 15 teams.
The Spartans' next meet will be Friday, Feb. 19, at Baldwin Wallace, although part of the team will go instead to Kent State University on Saturday, Feb. 20, both are warm ups for the upcoming UAA Indoor Championships. " We've all been working pretty hard in practice and trying to get in the right mindset," said Omilabu, "I am constantly inspired by my teammates and coaches, and how much work the program as a whole has put in this season. I have a really good feeling about the UAA Championships."
Leave a Comment
About the Contributor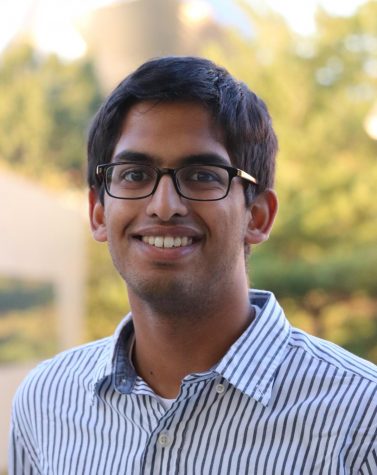 Shounak Bose, Web Editor
Shounak is a fourth-year biomedical engineer and is the web editor for The Observer. He is also a brother of the Delta Chi Fraternity, and is involved...