Provost presents on increased tuition and CWRU's expenses
Students and faculty gathered in Strosacker Auditorium with Provost W. A. "Bud" Baeslack for Pizza with the Provost on Friday, Feb. 4, to hear about updates to Case Western Reserve University's initiatives and discuss tuition and room and board rates for the 2016-2017 academic year.
Baeslack opened the discussion with an overview of CWRU's strategic plan for innovative education. The plan works to advance quality of education for the undergraduate experience, striving to find new ways to teach and support students in STEM and health sciences. Additions and enhancements will be made for master's degree and graduate programs.
Baseline inflation projects tuition cost to increase approximately two to three percent each year according to Baeslack. Much of the tuition cost funds standard baseline expenses to sustain the current level of activity at CWRU, including salaries and benefits for employees. Additional costs arise with the creation of new programs. Although gifts and donations build much infrastructure, such as the Tinkham Veale University Center and the recently upgraded think[box], operating costs to maintain the facilities come out of tuition.
New investments in areas such as academic programs, IT support, the Title IX office, Kelvin Smith Library and student retention are being made to provide a better undergraduate experience. Student-oriented campus facilities such as the TVUC, the Maltz Performing Arts Center, the North Residential Village and the health education campus are growing in infrastructure. More investments will be made in undergraduate advising, fellowships, international programs, Student Help and Resources Exchange (SHARE), technology and academic services, said Baeslack.
By comparison, CWRU price increases are among the lowest of other peer private institutions in the Association of American Universities. Tuition and board are projected to increase 3.25 percent overall, along with proportional increases in financial aid. Tuition, which this year is $44,156, will be increasing to $45,592 for the 2016-2017 school year.
As Baeslack concluded, students proposed questions and concerns regarding future considerations for pricing, financial aid, renovations, building maintenance, curriculum and student opinion on new investments.
"I think [CWRU] does a good job being transparent," said second-year student Tim Nicholas. "Student engagement can be higher, but if you don't voice your concern, then it diminishes the effect you'll have on administration."
"For those of you not graduating, we want to get your involvement to achieve the next level of quality innovation that best serves you," said Baeslack.
Leave a Comment
About the Writer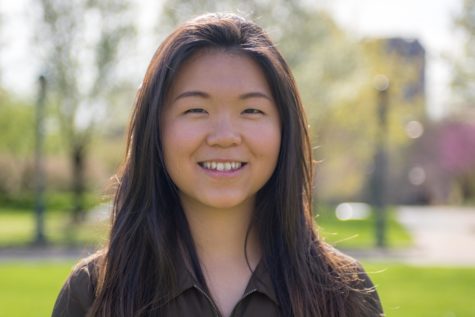 Ashley Chan, Director of Web & Multimedia
Ashley Chan is a second-year student studying economics. Ashley likes to lift. If you wish to contact her, you can email her at axc627@case.edu.