Spartans win three at volleyball UAAs, upset No. 21 Chicago
To beat the best, you have to play the best, and the Case Western Reserve University volleyball team has certainly played the best this year because two of the top teams in the country play in their conference.
The hosting Spartans won three out of four matches in University Athletic Association (UAA) Round Robin #2, defeating New York University (NYU) in straight sets, 25-21, 25-23, 25-14, American Volleyball Coaches' Association (AVCA) No. 21 University of Chicago 25-19, 25-17, 25-22 and the University of Rochester 25-23, 25-18, 25-20.
The Spartans' lone loss was in four sets to AVCA No. 3 Washington University 10-25, 25-19, 15-25, 23-25. CWRU finished UAA play third in conference with a 5-2 record, setting them up to face Rochester in the UAA tournament Nov. 6.
"[We have] confidence we really can play at the highest level," said head coach Karen Farrell. "Our challenge is to execute consistently at that level and not just peak to get there."
The Spartans played a thriller in their second match, upsetting the Maroons in three sets, the Spartans' third win over an AVCA top 20 program this year. "It's a team we feel we match up well with," said Farrell. "It was an enormous win."
The first set was a back and forth affair until the Spartans, down two, went on a 10-2 run to close the set. CWRU slowed down two of the Maroons' three main attackers, according to Farrell. Leading the strong defense were fourth-year libero Katie Best (5.69 digs per set in four matches), first-year defensive specialist Andrea Lu (3.46 digs per set) and fourth-year setter Robyn Marks (3.08 digs per set).
In the second set, CWRU went on a closing 11-3 run because of strong play close to the net, taking a commanding two set lead. Chicago gave the Spartans all they could handle in the third set, but the Spartans, energized by their raucous, standing-room-only home crowd and thoughts of an upset, prevailed. The celebration was led by Best, who was jumping for joy at various points in the final set.
Against Washington University at St. Louis, the No. 1 team in the country heading into play, the Spartans almost forced a fifth set, losing set four by a mere two points. "We were able to keep Wash U out of system," said Farrell. One way CWRU did that was through the serving of first-year defensive specialist Karina Bondelid, who leads the UAA with 0.47 service aces per set. "For us to be that close to a big upset was really exciting," added Farrell. After a poor first set, the Spartans came back with an aggressive attack. Leading the attack were fourth-year outside hitter Carolyn Bogart (3.07 kills per set), fourth-year middle hitter Haley Kauffman (.434 hitting percentage) and fourth-year middle hitter Kayla Pfaff (2.23 kills per set).
Kauffman was honored as the UAA volleyball athlete of the week after the tournament. "Finally, that effort was able to be recognized," said Farrell. "We've come to expect this from Haley week in and week out." During the week, Kauffman hit at a .435 average, totaling 56 kills and adding 3 aces.
Bookending the two nationally ranked opponents, CWRU swept decent UAA foes NYU Violets and Rochester. The Spartans took some time to get comfortable against the Violets, winning the first two sets by a total of six points. Then they pulled away in set three, dominating all aspects of the match. Rochester was a different story. The team was fatigued after three grueling matches and were at the tail end of a stretch of 11 matches in two weeks. The win was especially tough because Rochester is a team that makes opponents earn every point. "Sometimes you just have to survive matches," said Farrell.
After a long, well-deserved break, the Spartans host senior night against the College of Wooster and Bethany College on Oct. 31 at Horsburgh Gymnasium. CWRU is looking to improve upon their 21-5 record. Fourth-year students Best, Bogart, Kauffman, Marks and Dani Witri will all be honored as part of the festivities.
About the Contributor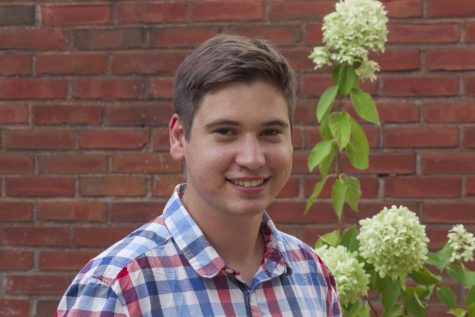 Eddie Kerekes, Executive Editor
Eddie Kerekes is in his fourth year studying chemical engineering while also pursuing a minor in German. He serves as the executive editor. Previous roles...