Dance your days away while social distancing
Free livestreamed dance classes
Sarah Parr, Director of Business Operations
May 15, 2020
As someone who has trained in multiple styles of dance since the age of four, not being able to move in a studio has been really hard during this social distancing thing—and the fact that I didn't bring my tap shoes home for spring break has been even harder. For people who don't have access to the daily or weekly classes or rehearsals they're used to, live, online classes can create a much-needed sense of community in the comfort of their own homes, for free, all while staying active, healthy and happy.
Dance celebrities are taking advantage of time at home by offering many free livestreamed classes. These classes feature multiple dance genres and levels, but are appropriate for anyone, no matter their previous experience (or lack thereof). If you've never danced before, or if you've hesitated from taking classes because you're self-conscious when surrounded by a group of 20+ people, this online at home approach could be the perfect opportunity to try out something new. 
I have compiled some of the best ones you can take right now; I'll let you know what you can expect, why you should care who the teacher is and why their class is one of the best uses of your time during this relatively sedentary period. Tons of other famous artists are holding pop-up one-time-only classes with modest tuition fees, and you can find out about those by following your favorites, but here are some incredible celebs hosting accessible routine sessions you can count on.
Genre: Ballet
Artist: Tiler Peck
Level: All levels
When: Weekdays, 1 p.m. EST
Where: Instagram Live @tilerpeck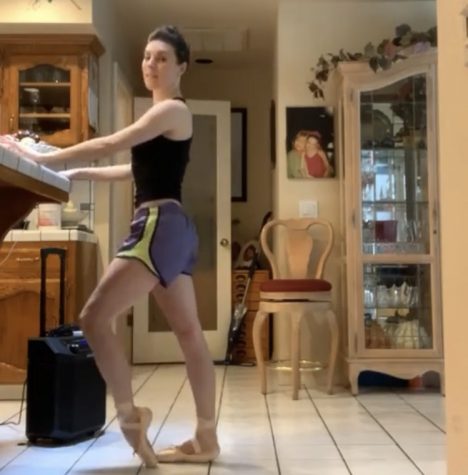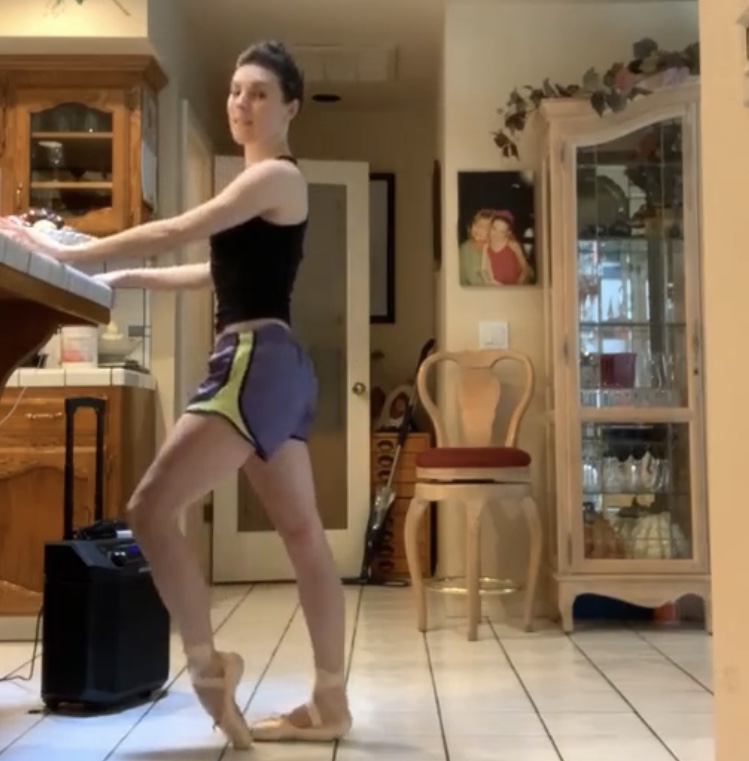 Whether you have a ballet barre and Marley floors in your basement or just a kitchen counter, you can take a full, almost traditional ballet class that includes a barre warmup, across the floor exercises, center work and even classical variations. Taking a daily ballet class with one of New York City Ballet's principal dancers is an opportunity you need to take advantage of, because it's almost certain you'll never get to #TurnItOutWithTiler again. She also brings on fellow celebrities to say hi every now and then, such as ballet and contemporary stars Misty Copeland and Travis Wall. Whether Peck is dancing with friends she met 20 years ago when she was in "The Music Man" on Broadway, or with current colleagues in ballet companies across the world, her time at the barre is never boring. Her guests always add something new, whether it's a point of view or advice for succeeding in a dance combination. Peck uses the highlight feature on her Instagram to save stories others have posted about their experiences in her classes. These stories serve as testimonials of how passionate and dedicated so many dancers are, whether they're still in elementary school or they're seasoned professionals like acclaimed dancer, teacher and choreographer, Galen Hooks, who excels at everything she does, even though ballet isn't her area of expertise. Artistic jobs may be taking a back seat at this time, but we're also getting a chance to see stars come back down to earth where the rest of us are, and that's pretty cool.
Genre: Musical Theater Jazz
Artist: The Rockettes
Level: Advanced/intermediate
When: Thursdays, 12 p.m. EST
Where: Instagram Live @therockettes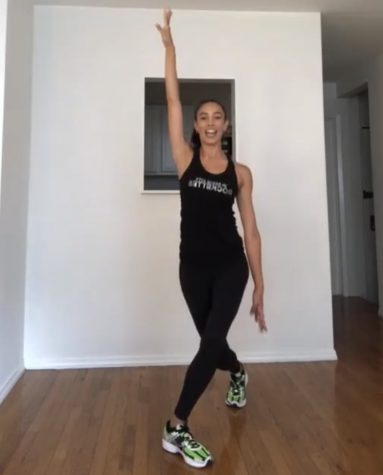 Known for their eye-high kick lines and the Christmas Spectacular at Radio City Music Hall, the Rockettes are bringing some of their famous routines to you, teaching you the skills you need to one day make it in New York (maybe). This historic precision dance company boasts super specific height requirements to even audition, and some dancers say you have to audition five times before the casting directors even begin to notice you. But it's nice to dream, and these classes offer you at least a little bit of hope, if you want it. Each week, a Rockette takes over the company's account to lead you through legendary choreography; whether it's "Sleigh Ride" or "Christmas Lights," your smiley, peppy Rockette teacher will help transport you to a happier time by getting you in the winter holiday spirit. After a warmup catered to dancers of any and all levels, the Rockette of the week skillfully breaks down the routine's counts, ensuring that the choreography is always accessible. But because the account saves all sessions on IGTV, audience members can go back if they missed a step, happened to not make it to class or just want to watch the pro do it. 
Genre: Street Jazz or Heels
Artist: Shirlene Quigley
Level: All levels
When: Saturdays, 4 p.m. EST
Where: YouTube Live @shirlenequigley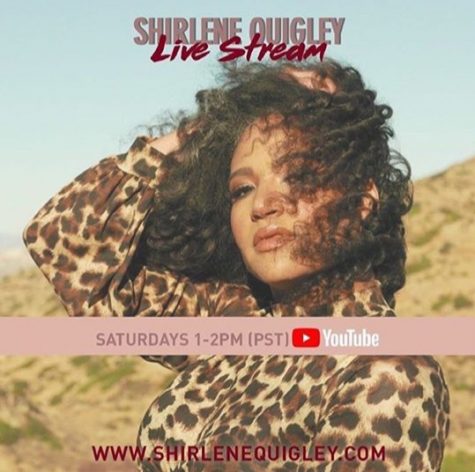 I first took Shirlene Quigley's heels class at Broadway Dance Center almost a decade ago, and I couldn't be more thrilled that people all over the world will now get to do the same. One of Quigley's first professional dance gigs was when she was one of the "Uh Oh Girls" in Beyoncé's "Crazy in Love" music video from 2003, and most recently, she toured with Lizzo as one of her dancers. But don't let her headshot or those impressive credits fool you; she is the kindest, most spiritual and most loving dance teacher you will ever encounter. She always starts class with a sort of communal meditation, and when class is in person, this takes place holding hands in a circle. With aesthetically pleasing red and blue mood lighting, Quigley's sexy booty-popping choreography to songs like Doja Cat's "Like That" will certainly allow you to lose yourself in all those memories of you and your friends going out for nights of dancing. "I can't see or hear you, but I can feel you," Quigley gushed when encouraging and supporting students to try the combination without her. "Alright, good. Now we'll do it up to tempo and I'm gonna be dancing with you, so make room in your house." She puts tutorials up on her social media the day after class as well, so you can truly perfect (or admire) the choreography at your own pace. Heels are optional, of course—make sure you're comfortable walking in them first.
Genre: Tap
Artist: Demi Remick
Level: All levels
When: Wednesdays, 2 p.m. EST
Where: Instagram Live @demi_remi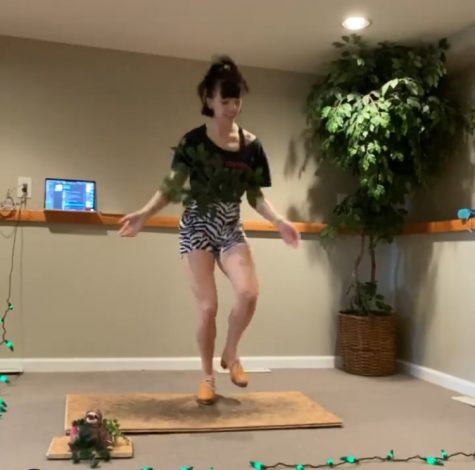 Join one of Postmodern Jukebox's dancers and her stuffed tap-dancing sloth for weekly themed tap dance conditioning classes. Remick will give you exercises for improving your tap skills as well as your flexibility and strength. Remick's gotten dressed up in '80s gear, robot attire and "Flintstones" costumes, all while picking music and creating choreography that fits the specific vibe she's going for. Whether warming up with a Michelle Dorrance-inspired crawl exercise (of course featuring modifications to make it harder by alternating heel and toe drops), jamming out to Britney Spears' "Toxic" or dedicating a day to special tap skills and tricks, Remick clearly loves teaching. She wants to improve her tap, teaching and choreographing skills, and she wants her students to enjoy getting better at and appreciating tap dance. She constantly has an eye on her comments and live questions, ensuring everyone is on the same page before moving on to different exercises and combinations, which is so important in a time when teacher-student interaction is one of the biggest challenges of doing virtual classes.
If you're interested in another free approach to tap dance, consider acclaimed tapper, teacher and choreographer Lisa La Touche's intermediate tap classes every Tuesday at 3:30 p.m. EST live on her Instagram @lisalatouche. If you have no tap dance experience but always wanted to get into the style, have no fear—Jason Samuels Smith is hosting basic classes on his Instagram Live @jsamsmith every Wednesday at 2 p.m. EST.
Genre: Various
Artist: Debbie Allen
Level: All levels
When: Wednesdays (at least)
Where: Instagram Live @therealdebbieallen
Executive producer of "Grey's Anatomy," legendary performer and all-around influential boss lady is itching to give back to her community more than ever. Learning from such a seasoned artist and business person is life-changing—when Debbie Allen gives you advice, or even just a smile, you take it all in. Taking class from an accomplished vet gives you a little more comfort when you see that they might not be the youngest, hippest or hottest, but you can still look up to them and hope to be half as good. While Allen certainly made incredible strides in her prime, her moves are a little slower these days, and that's totally okay. When she breaks down steps in her relatively simplistic warmup or choreography, you know she is doing it from a place of caring, wanting everyone to succeed and love dance no matter their relationship with it. Sometimes she brings on special guests, like tap legend and mentee, Chloe Arnold, to help teach class, giving her viewers an even richer experience. Her classes don't always meet at the same time, but the good news is she usually has multiple sessions each week, and the focus is always something new. Sometimes she caters to kids, other times to professional dancers—no matter who you are, every soul will find her enthusiasm and combinations worthwhile. When you get to #DanceWithDebbieAllen, everybody wins.