Cleveland gets weird for Datsik
At the House of Blues Cleveland, a person wearing a bear costume leaned against a side wall, a marijuana leaf necklace swinging across their chest. Groups of women walked by wearing nothing but bikinis, just after entering the lobby from the frigid outdoor air. Standing above everyone else in the audience was a person wearing a rubber horse mask.
On April 12, concertgoers united in their strangest outfits and accessories for a show with musicians Datsik, Ookay and Drezo.
It was prime people-watching time.
In the middle of the crowd during Ookay's set, a man pulled down his pants, pointed at a butt tattoo and yelled to a stranger next to him, "I'm so fucked up!" Next to him, a man pulled a hand pipe out of his pocket, packed it with weed and lit it, taking a long drag. Closer to the front row, someone flailed, swinging their arms at their neighbors carelessly.
Lights and lasers streamed above the audience, in complicated grid patterns. The DJs looked small at their stand, laptops glowing in front of them. On either side of the stage were large red trash cans designed to look like oversized Solo cups wearing large pairs of sunglasses.
Up first was Drezo, performing an hour later than the show was scheduled to start. His blend of EDM was more groovy and laid-back than the rest of the night, and it took about 45 minutes of his music to get the crowd actually moving.
Immediately following was Ookay, with slightly heavier tunes and a stronger stage presence. During his set, a mosh pit formed in the center of the audience, and infected the rest of the attendees. Soon everyone was dancing and throwing up their arms during each bass drop.
Datsik's show was the most intense, both in the crowd and in terms of his music. His grittier form of bass music had fans jumping so hard that the floor of the House of Blues shuddered with each beat.
The night was loud—even behind bathroom doors or out in the lobby, the thumping rhythm changed the pressure enough to feel it. Though it could've been a painful experience without earplugs, it's part of the appeal of bass music.
And based on how the crowd looked that night, and how they were moving, you could tell that they did more than just listen to the music. They felt it.
Concert: Datsik, Ookay, Drezo
Date: April 12, 2015
Venue: House Of Blues
Rating: 4/5
Leave a Comment
About the Contributor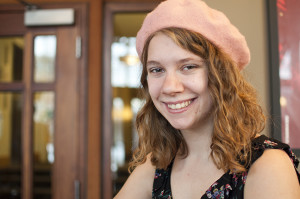 Anne Nickoloff, Director of Print
Anne Nickoloff, the Director of Print for The Observer, is a senior at Case Western. She hopes to one day be a music journalist, and has spent much of...