Canadian bands Dear Rouge, Rah Rah play to tiny Mahall's audience
The evening of Tuesday, Nov. 10 started out awkwardly at Mahall's 20 Lanes.
At 7:30 p.m., I walked into the main concert room on the first floor expecting the show to start. However, the room was practically empty, with a band warming up on the stage and a couple of girls chatting near the wall. The lights were still on.
It felt like everyone was staring at my sister and me as we entered the empty room. Within 10 seconds, we shuffled over to the bar.
I pulled up the venue's website on my phone. The concert, headlined by Canadian bands Rah Rah and Dear Rouge, was supposed to start at 7 p.m., which in concert language means 7:30 p.m. But after an hour of sitting around, we realized that it had to be a typo.
At 8:30 p.m., the first few notes from opener, Diverge, started strumming, and we went back for the show. Looking around the room, there were 17 people in the audience including me, but this didn't seem to get in the way of the band's boundless energy. "We're giving everything we've got to you guys," shouted singer Eric Potapenko.
Diverge was a little hyperactive for the venue, but their music matched their vibes. It was a little frustrating when they played the only encore of the night between the three performing bands, but it was justified. At 17 people, this was the biggest the crowd would get all night.
During Rah Rah's set, it dropped down to 14 audience members. The band hurried through a quick 30-minute set, but otherwise maintained an engaging presence. You know, other than the time guitarist Erin Passmore's guitar started malfunctioning mid-song and she said, "fuck this piece of shit guitar" into the mic as though it was any other lyric.
Their whole indie pop thing was their own, though. Rah Rah flipped like a switch between two radically different styles: bubbly violin-softened dream punk and fuzzed-out deadpan strumming. Rah Rah is similar to Tacocat, but a little more layered and a little less funny.
In the transition to Dear Rouge, the audience cut in half, leaving only seven people including me, for what was, in my opinion, the best act of the night. But the tiny audience didn't phase the band; after all, they were the most dedicated after staying through to the end.
One audience member had followed Dear Rouge in past Canadian festivals, and explained that if the show was happening in Canada, it would be difficult to get a front-row view. This was confirmed on their Facebook page. A picture of their performance in Toronto featured a tightly packed crowd in an auditorium in early November.
Mahall's seven-person crowd did nothing to touch their bigger shows, but the group was still excited to perform. Their lights matched their presence: flashy, bright and fast.
Dear Rouge powered through their half-hour show, and towards the end of their set, singer Danielle McTaggart hopped down from the stage and danced with her biggest fan in the room.
It says a lot about a band when its members are just as excited to play for one person as they are for hundreds. The bands at Mahall's this past Tuesday played their music for more than just their fans. They played their music for themselves, and they had a good time doing it.
Concert: Dear Rouge/Rah Rah/Diverge
Venue: Mahall's 20 Lanes
Date: Nov. 10
Rating: ★★★☆☆
About the Contributor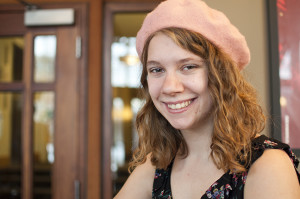 Anne Nickoloff, Director of Print
Anne Nickoloff, the Director of Print for The Observer, is a senior at Case Western. She hopes to one day be a music journalist, and has spent much of...