Concert calendar: A look at this month's upcoming performances
There is plenty of good Cleveland music to keep you busy for the next couple of weeks, if you decide to tough out the Midwest winter.
Netflix and cocoa might sound good right about now, I get it. But if you want to come back to school in the spring and say that you actually did something, consider one of the following shows:
Date: Dec. 9, 8 p.m
Band: Sleater-Kinney / Waxahatchee
Venue: Cleveland Masonic Auditorium
Price: $30
The dream of seeing Sleater-Kinney live became possible last year during the fall, when the group pulled a "Blues Brothers" and got back together. Don't mess this up: the three musicians that make up the band are busy, and this might be one of your only chances to catch the trio live. And be sure to revel in TV star and band guitarist Carrie Brownstein's "Portlandia" glory.
Date: Dec. 10, 8 p.m.
Band: DeJ Loaf / Tory Lanez / Colonel Loud / TK-N-Cash
Venue: House of Blues Cleveland
Price: $20
Hip hop and rap will run all night at House of Blues' Whiteout Event, sponsored by radio station 107.9. DeJ Loaf has worked with everyone from Big Sean to Future, and her voice is becoming recognizable on its own. Be there to hear it at this mini music fest.
Date: Dec. 17, 9 p.m.
Band: Wolf Alice/Radkey
Venue: Grog Shop
Price: $15
Wolf Alice is the perfect mix of beachy soft vocals and a grungy backing band. They're chill but vicious; basically what you'd expect from a band called "Wolf Alice." Listen to "Bros" and "Moaning Lisa Smile" to see both sides of the band.
Date: Dec. 21, 8 p.m.
Band: Machine Gun Kelly
Venue: House of Blues Cleveland
Price: $62.87+ (resale only)
Tickets sold out for MGK's show, as they always do. The rapper, who lived in Cleveland while growing up, has plenty of ties to the city, most notably through his ode titled "Cleveland." The series of two shoes will be nuts. Sure, it's pricey, but it might be worth it to see MGK performing in the city he knows best.
Date: Dec. 23, 9 p.m.
Band: Wesley Bright & The Hi-Lites
Venue: Beachland Ballroom
Price: $13-15
Celebrate what Beachland is calling "A Soulful Christmas" with Wesley Bright & The Hi-Lites on the eve of Christmas Eve. And break out the dancing shoes for a few slick moves on the Ballroom's floor.
Date: Dec. 28, 9 p.m.
Band: Cloud Nothings / Aaron Dilloway / Vanilla Poppers
Venue: Grog Shop
Price: $15
Case Western Reserve University dropout band Cloud Nothings is making another return to Cleveland, and it's going to be glorious. If you're stuck feeling like a grinch before New Year's Eve, this would be a good remedy.
Leave a Comment
About the Contributor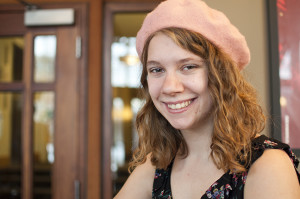 Anne Nickoloff, Director of Print
Anne Nickoloff, the Director of Print for The Observer, is a senior at Case Western. She hopes to one day be a music journalist, and has spent much of...