"Deutschland 83": Unknown show of the summer
A critically acclaimed spy thriller set during the Cold War—sounds a lot like "The Americans." What if I told you it's the first German language show to air in America?
Few people know about the historic "Deutschland 83." The show averaged under 100,000 viewers per week, because SundanceTV and iTunes are the only places to find it. However, many critics have raved about the show, with some even calling it the show of the summer.
"Deutschland 83" is about Martin Rauch (Jonas Nay), a 24-year-old forced into spying for the East Germans in the title year of 1983. He assumes the identity of Moritz Stamm, an aide-de-camp for NATO General Wolfgang Edel (Ulrich Noethen). Rauch's mission is to gather secrets about the Pershing II rockets about to be stationed in Western Europe.
One of the reasons the show is so highly acclaimed is the writing. Anna Winger, also a co-creator, adds well-needed humor to moments of tension. Some of the one-liners in the show are hilarious. Additionally, her writing works well with the cinematography and production to intensify the dramatic scenes of near escape.
The soundtrack for the show is also unreal in its cohesion. Reinhold Heil only chooses songs from the time period that suit each episode perfectly. For example, "99 Luftballons" is used in episode one. The songs create nostalgia, but also set the time period and complement the action.
Nay's acting carries the show. Normally straight-faced, he reveals little emotion even in the tensest scenes. His voice inflection and body language are all the audience need to see how he's feeling. The protagonist deals with so many issues—potential war, a long-distance relationship, a sick mother, rebellious friends and concealing his identity—that he doesn't have time for them. Nay conveys all of Martin's struggles through his blank face.
The show is also interesting because it shows history from the perspective of the East Germans, a viewpoint most Americans haven't considered.
"Deutschland 83" had an eight-episode first season, which premiered from June 17-Aug. 5. All eight episodes are available for download in the iTunes Store. Warning: The show is in German, so subtitles are used.
Title: "Deutschland 83"
Director: Anna and Jörg Winger
Premiere: June 17, 2015
Rating: ★★★★☆
About the Writer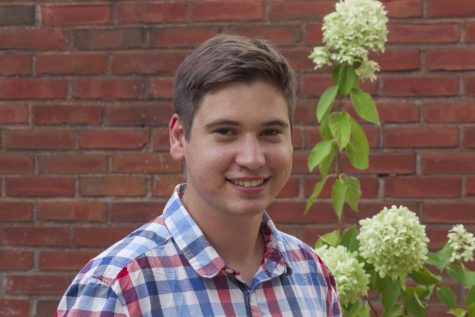 Eddie Kerekes, Executive Editor
Eddie Kerekes is in his fourth year studying chemical engineering while also pursuing a minor in German. He serves as the executive editor. Previous roles...