Diverse home cooking takes center stage
The day after the winners of "The Big Family Cooking Showdown" (BFCS)  were revealed across the pond, the BBC show appeared on Netflix in its entirety. Designed to fill the void left by "The Great British Bake Off" when it jumped to Channel 4, "BFCS" struggled to recreate the magic that made the first one such a delight to watch.
The show definitely had its high points, primarily the diversity of its contestants and the food they created. Over the course of each episode's three challenges, teams were asked to cook multiple-course meals. Contestants baked cakes, grilled steaks and made appetizers like they would make any day at home. The families themselves were quite diverse and reflected the population of modern Britain, with Italian, Indian, Pakistani, and of course British cooking.
It's hard not to compare "BFCS" to its unofficial predecessor, and at least for me, the negative aspects, from the hosts to the format of the competition itself, were hard to overlook.
The show's first eight episodes each featured two different families that competed against one another; the eight winning families and one wildcard family moving on to the semifinals. The next three semifinal episodes featured three families facing off, with the three winners competing in the final.
The bracket-style competition made it more difficult to connect to the competitors, since any favorite team was present maybe three times over the course of the 12-episode season.
Additionally, the hostsーZoe Ball and Nadiya Hussain (a "Bake Off" winner)ーsimply did not have the chemistry that Mel Giedroyc and Sue Perkins shared when they hosted "The Great British Bake Off."
Individually, they interacted with the families and judges charmingly, but they simply did not seem to click with each other. However, because of the show's format, this is not be too big of an issue, because they don't seem to spend a lot of time together.
In the end, time will only tell if, going into its sophomore season, "BFCS" can pick up momentum and compete with "The Great British Bake Off."
Show: "The Big Family Cooking Showdown"
Network: Netflix
Release: Nov. 3
Rating: 3 out of 5
Leave a Comment
About the Writer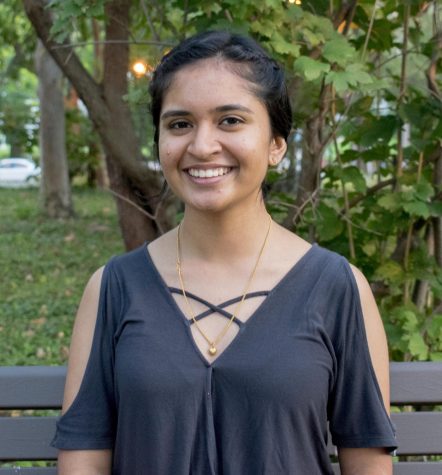 Smruthi Maganti, Arts and Entertainment Editor
Smruthi Maganti is a third-year student studying biology with a minor in public policy. After a year of copy editing, this is her first year as the A&E...