Ellie Goulding gets lost in "Delirium"
In "Delirium," Ellie Goulding's third album, Goulding follows the pop formula very well: catchy vocals + emotional lyrics + heavy beat with dance breaks. But no one who hears any song from this album will think it's anyone but Ellie Goulding because of her distinctive icy vocals. Her voice can be part of her uniqueness, but in other ways her past distinctiveness is exactly why she shouldn't fall into the pop formula. Her songs used to complement her one-of-a-kind voice, but this is not true on "Delirium."
I would highlight different sounds on the album, but, honestly, hearing one song is like hearing them all. There obviously are different rhythms and slight variations in instrumentation and theme ("Holding On For Life" has more piano and a jazzier feel than the march sounds in "Army") but overall the album sounds the same. With albums, I like to feel like there was a purpose, an artistic mission or a message to take away. Goulding did have a goal, and it was pop. In a statement about the album she said: "A part of me views this as an experiment—to make a big pop album. I made a conscious decision that I wanted it to be on another level." In this way she does accomplish what she set out to do and, while it might not elevate Goulding to the top, "Delirium" is a spectacular pop album.
But I can't help feeling a little disappointed.
Maybe because Goulding has so much potential, maybe because the popular music sphere lost the folk-y and EDM flares she brought to Top 40 or maybe just because I was hoping for some variation in an album this long (it runs for over an hour).
Don't get me wrong, "Delirium" is a good listen if you're into the singles she's been putting out lately ("Love Me Like You Do" and "On My Mind"). Any of the songs could make it as radio hits and I'll listen to some songs when I'm in the mood for shameless pop, but it's not an album that will get Grammy nominations. It doesn't feel authentically like Goulding and I'm not sure if it's putting her in the right direction. Up until this album I would not consider clumping Ellie Goulding in with Carly Rae Jepsen or Demi Lovato, and losing that differentiation is where the disappointment lies.
Imagine if The Weeknd made an entire album that sounded like "Can't Feel My Face." That's the equivalent of Goulding's "Delirium."
Album: "Delirium"
Artist: Ellie Goulding
Released: Nov. 6, 2015
Rating: ★★½☆☆
Leave a Comment
About the Writer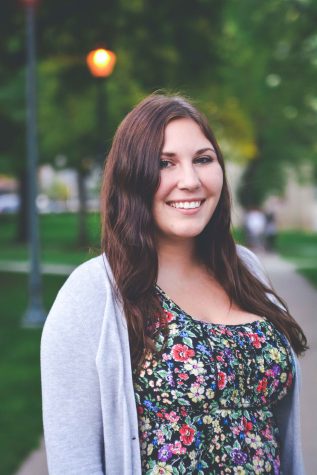 Alex Clarke, Arts & Entertainment Editor
Alex Clarke is a senior with majors in english and psychology and a minor in marketing. She also writes for Trill Mag, wrote for McClatchy newspapers for...