Ex "Parks" star moves past the stache
Nick Offerman featured in UPB's spring comedy show
Nick Offerman waved Retta onto the Severance Hall stage at the end of his standup set on Friday, March 20. The audience immediately hushed, but a few seconds into his acoustic strumming, the room buzzed. Suddenly most onlookers knew exactly what was happening.
With a slow clap emanating from much of the audience, a grandiose version of "5,000 Candles in the Wind" filled Severance Hall with the signature lyrics "Bye, bye Li'l Sebastian" sung by the enthusiastic "Parks and Recreation" fans in the room.
Offerman and Retta, both stars on "Parks and Recreation," continuously referenced their television fame with small quips throughout the comedy show … especially during Retta's set.
Retta seemed to embody her character on the show, Donna Meagle, as she snuck in the phrase "Treat yo' self," or told tales of a "Parks" group-text conversation. This part of the comedy show centered not necessarily on stand-up skills, but past fame.
For "Parks and Recreation" fans, this was hysterical. For attendees who were unfamiliar with the show, it was (luckily) still pretty funny.
Of course to the dismay of the NBC show's fans, "Parks and Recreation" just wrapped up its final episode ever on Feb. 24, 2015. The question on everyone's minds has been: Where do the stars go from here?
For Offerman and Retta, it brought them to Case Western Reserve University for University Program Board's Spring Comedian show, which is University Program Board's highest-cost event of the entire school year. However with a new book due out in late May, Offerman himself is pushing off his role in "Parks and Recreation" with enough momentum to break out of just comedy and his character as Ron Swanson.
In an interview after the show, Offerman discussed "Gumption," his latest novel about American heroes.
"It was really neat. Everybody turned out to be such a sweetheart. I chose them because one way or another, they were iconoclasts and sort of uniquely voiced artists who had achieved great success by not following the flock," said Offerman. "I wish I could have written a book about each and every one of these people."
Of course the book still incorporates some of Offerman's humor. It's going to be impossible for the actor to break entirely away from his comedic style. Just moments after speaking about his book on the Severance Hall stage, he mumbled to himself, "What the fuck is chalk?", forgetting one of his prompts. The crowd laughed nervously, and the laughter grew as Offerman worked his way away from talking about his not-as-funny book. But chalk? This was a question that remained in Offerman's head even after the show.
The comedy show had its ups and its downs. And it had a lot of ups; when Offerman pointed out a ridiculous bit of poop-related Cleveland news in that week's edition of The Observer, he had the crowd busting up. Plus the surprising twists and turns in his "Rainbow Song" offered a pro-tip for any songwriters in the audience: "If you end sweetly, you can say that you butt-fuck her in the middle of the song, and people will still say 'aww' at the end."
Plus it'd be hard to deny Retta's hilarious and impressive opera singing, which wrapped up her entire show, especially with her final, sassy exit from the stage.
But the show had its downs. Offerman's references to a racist plaque in Pennsylvania fell flat with the Cleveland-based crowd, and Retta's constant race humor became a little overbearing at times. A questionable moment ensued when Offerman pretended to unzip his pants to urinate on the floor of Severance Hall. And then there was the neverending question: "What the fuck is chalk?" Was this a real question in Offerman's head, or was it a clever ruse to get a few laughs out of the audience?
We'll never know. Regardless of its low moments, the show had plenty of highs.
When Retta complained about fast-food restaurants, we felt anger with her.
When Offerman giggled his hilariously boisterous laugh, we couldn't help but laugh along.
And when it came time to sing with the two comedians in Severance Hall, the audience sang too.
Show: UPB's Spring Comedy Show Ft. Nick Offerman, Retta
Location: Severance Hall
Date: March 20
Rating: ★★★☆☆
Leave a Comment
About the Contributor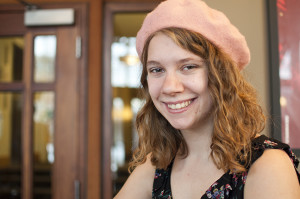 Anne Nickoloff, Director of Print
Anne Nickoloff, the Director of Print for The Observer, is a senior at Case Western. She hopes to one day be a music journalist, and has spent much of...