Facing the opposition head on
Women's soccer drops final two home games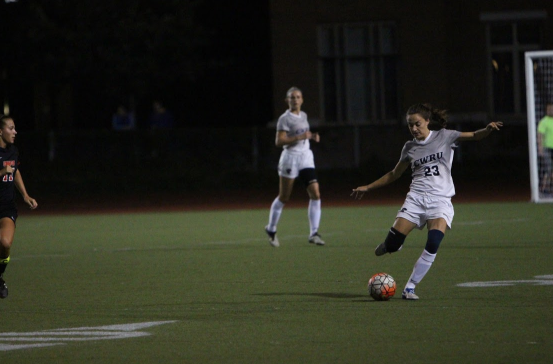 The Case Western Reserve University women's soccer team played two tough matches this week, losing to sixth ranked University of Chicago and to 11th ranked Washington University in St. Louis. The losses put CWRU's season record at 6-7-4 overall with a 0-4-2 in the University Athletic Association (UAA).
In the first game against Chicago, the Spartans held their own against a relentless attack, ultimately falling 1-0. Third-year goalkeeper Sarah Newcomb had a busy night, posting seven total saves, including three in the first half. Chicago put up seven shots in the first half, three of which were on goal. The Spartans were unable to apply much pressure on the Maroon's defense, only putting up two shots.
In the second half, things got worse for the Spartans as Chicago applied even more pressure. Newcomb was forced to make four saves in the half. She wasn't able to stop all of them, however, as one of the 13 shots from the Maroons found the back of the net. In the half, Chicago locked down defensively as well, allowing only one shot from the Spartans, which was not on goal. Chicago would eventually score in the contest with just 17 seconds remaining in the contest, effectively sealing the win.
In the second contest for the Spartans, the team fell to Washington University in St. Louis 3-0 in what would be the final home game of the season for CWRU seniors. The Bears took an early lead in the contest, scoring in the 37th minute of the game. That score held for the first half of the game.
This game marked the first career start of first-year goalkeeper Lauren Unterborn, who made three saves in the first half.
The Bears applied more consistent pressure in the second half, putting up nine total shots. The team found the back of the net in the 54th minute of the game, putting Washington up 2-0. The best offensive chances for CWRU came from fourth-year forward Mahya Krouse, putting up two shots on goal in the contest. The Bears would score yet again again in the 80th minute for the final goal of the game. The Spartans were outshot 15-7 in the contest.
The Spartans will have their final match of the season on Saturday, Nov. 6, as the team travels to Pittsburgh, Pennsylvania to play against 18th ranked UAA rival Carnegie Mellon University at 1 p.m.
Leave a Comment