Faculty couples share love stories
Meckeses: "I guess we are just lucky"
When asked for relationship advice, Professors Mark and Elizabeth Meckes from the Mathematics Department laughed because they were not sure how to reply. Being each other's first relationship, Mark and Elizabeth first met when she was still in high school and continued their love story from the east coast to the west coast, and now here at Case Western Reserve University.
"I don't know if we have authority to give relationship tips," said Elizabeth. "I guess we are just lucky. We met each other first."
Mark and Elizabeth first met in her high school marching band camp in 1996. Mark, a CWRU second-year student at that time, went to Elizabeth's high school to help organize the camp during his summer vacation, and thus got to know her. Over the next school year, they kept in touch via email. When Elizabeth graduated from high school, she decided to come to CWRU to join Mark, who was getting his PhD in math.
Married in 2001 after Elizabeth graduated from CWRU, they continued their studies at Stanford University, where Elizabeth worked toward her PhD and Mark taught as a lecturer. The first year at Stanford was a stressful time for Elizabeth, as she was studying for the qualifying exams for mathematics PhD students.
The exams were notoriously difficult, and she had to study to the point of exhaustion every day. Once while she was preparing for the exams, she mentioned to Mark that she wanted to go somewhere to get away, but she did not have time or energy to plan it. Without letting her know, Mark planned a trip for her to the Grand Canyon National Park, where Elizabeth and her family always went while she was growing up.
"He didn't tell me where we are going, or when," said Elizabeth. "Just one day after the exams were over, he said, 'pack your bag, we can go.'"
The couple then carried their relationship to Cornell University, where they spent one year teaching before deciding to settle down in Cleveland. This relationship saga, far from ending, has brought them two children and many collaborative achievements in math so far.
Referred to as "the Meckeses" in the math department, Mark and Elizabeth have worked on five research papers together and published a book on linear algebra. Both Mark and Elizabeth feel that their relationship has been beneficial in helping them make progress in research. Almost always together, the math couple can share their thoughts at any random time, whether walking down the halls of Yost Hall or on their way from their children's preschool to CWRU.
They also feel more comfortable having each other as their research collaborators. Elizabeth felt that she was more at ease working with Mark, who she is not embarrassed to "sound stupid in front of." They can think freely in front of each other and try different ideas, even though many may not end up working.
Mark and Elizabeth have lunch together every day, and they have offices on the same floor of Yost. Whenever they have something they want to share, whether it is funny or annoying, they know that their "Valentine" is just around the corner.
"I can just knock on his door and say, 'Hi, guess what just happened,'" said Elizabeth.
Both of them feel that they are better because of their relationship.
"Most things that I have ever done, I did better because I talked out how to do it with her first," said Mark.
Cavusoglus: "Our plan is to grow old together"
Talking to electrical engineering and computer science Professors Evren and Cenk Cavusoglu makes you feel love. Between them there is often joyful laughter and eye contact filled with love, making Glennan 517C one of the most romantic places on CWRU's campus.
At a Detroit robotic conference in 1999, Evren and Cenk were introduced to each other by Evren's PhD advisor. At that time, Evren was studying at Middle East Technical University in Turkey, while Cenk was a PhD student at University of California, Berkeley. However they later found out that it was not the first time they met.
Evren and Cenk were distantly related, and their families in Turkey were close to each other. When Evren was 10 years old, one of Evren's cousins and one of Cenk's cousins were engaged. Little Evren and little Cenk were therefore brought to the same engagement party, and even took a picture together.
Having no idea of their childhood encounter, both of them then attended the same undergraduate school with the same major, electronic engineering. Evren and Cenk still did not know of each other's existence, until the 1999 Detroit meeting finally brought this meant-to-be couple together.
Before Evren and Cenk started working at CWRU, they had a long-distance relationship while Evren was in Turkey and Cenk in the U.S. Separated by the Pacific Ocean, both of them took effort to maintain this relationship by calling each other every day and preparing each other little surprises.
"The phone company loved us," Evren joked.
She also remembers that once she mentioned a book she liked, and a few weeks later the exact book sent by Cenk was sitting in her mailbox.
Their long-distance relationship lasted for three years and ended when Evren joined Cenk at CWRU, who had just started to work here at that time. It has been 13 years since they got married, and the couple still enjoys their time together on campus. When the weather is nice, they sometimes walk to Uptown for lunch or for Mitchell's ice cream, where Cenk always chooses vanilla and Evren gets lemon raspberry. They also discovered their favorite lunch spot on the quad: the benches in front of Glennan. Even though their schedules don't always match, or their work gets busy sometimes, they manage to make time every day to catch up.
Although they wish that they could spend more time together, Evren and Cenk leave some space for each other at work.
"We actually try not to [collaborate at work]," said Evren. "He tries to give me my space. I am more junior in academia than him, so he is giving me my space so that I can be independent and set my own career. But he mentors me a lot. We also teach each other's' courses in case that he has to go to a conference or he loses his voice."
Looking to the future, Evren and Cenk consider raising their 10-year-old son to be their top priority. For this Valentine's day, their son asked his mom to buy him two cards, so he can send them to his parents as Valentine's gifts.
Evren asked Cenk what his plan for the future of their relationship is.
"Grow old together."
About the Contributor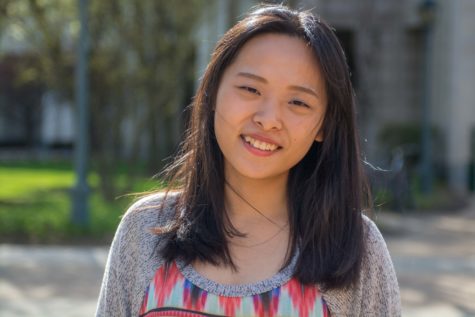 Celia Wan, News Editor
Celia Wan is a sophomore majoring in mathematics and history. She joined The Observer in the fall of 2015 and became the news editor at the end of her...