Faculty helps organize March for Science despite no official sponsorship
On April 22, protestors will gather at Public Square in Downtown Cleveland to advocate for science and its role in society. The rally, dubbed "March for Science," will attract many people from a variety of scientific fields, including many from Case Western Reserve University.
March for Science: Cleveland is being held in conjunction with the national protest occurring on the same day in front of National Mall in Washington, D.C. The Cleveland satellite march is sponsored by several nonprofit organizations, including the Cleveland Foundation, the Cleveland Clinic and Cleveland State University.
Several CWRU professors will speak at the rally, including Assistant Professor of Biology Emmitt Jolly and Director of CWRU Institute for the Science of Origins Glenn Starkman. Besides, the rally also gathers people from beyond academia, such as Evalyn Gates, the director and CEO of Cleveland Museum of Natural History and Aparna Bole, pediatrician at University Hospitals Rainbow Babies & Children's Hospital.
CWRU Director of the Program in Evolutionary Biology, Patricia Princehouse, is the co-chair of the Cleveland satellite march. She sees the Cleveland protest as "a celebration of science and a request to take it seriously."
According to Princehouse, the overwhelming opinion among scientists today is that politicians in the United States generally "under-appreciate science or are hostile to it."
However, although Princehouse is co-directing March for Science: Cleveland and has hosted several volunteer training sessions on campus, CWRU is not a sponsor of the march.
In an email Princehouse sent out to her colleagues to encourage participation in the march, she prefaced the email by stating that "I am writing you as a private citizen, not as an agent of the University as it is not a sponsor of the march."
Despite the lack of support from CWRU, She hoped that her colleagues "as private citizens will also pass the word along… and forward this info far and wide, to colleagues, students and friends."
On a national level, CWRU is not the only school that refused to endorse the march. The majority of the universities belonging to the Association of American Universities chose to not sponsor the march. On the March for Science official website, only New York University is listed as one of the rally's partners.
Kellen McGee, a research associate in the School of Medicine and also one of the organizers of March for Science: Cleveland, expressed her disappointment to CWRU in response to the March.
"Case Western Reserve University's profound silence, and refusal to take the stage and endorse the March for Science: Cleveland damages its reputation as one of the premier research institutions, not just of Ohio, but nationally. CWRU stands to lose the respect of its people, from its researchers to its students to its patients, with such a highly public demonstration that… when it comes to defending and standing up for the funding and political climate that will allow these very things to flourish, CWRU abandons these principles and takes a hypocritical step to the sidelines," wrote McGee in an email.
A statement from the president's office explained the reasons why CWRU refused to sponsor the march: "Every day, CWRU is committed to discovering new knowledge and deepening understanding across the disciplines. These include science, as well as dental medicine, engineering, humanities, law, management, medicine, nursing, social work and the social sciences. This Friday's annual Research ShowCASE, for example, celebrates science and writing along with many other subjects…. In consulting with peer institutions and national organizations, we concluded the university's best path to advance science and other disciplines involved a diverse range of education and advocacy efforts."
For Princehouse, the March is particularly relevant to Cleveland and, more broadly, to Northeast Ohio, given its strong tradition of scientific innovation, something that CWRU students are familiar with.
"Many people in [Northeast] Ohio have no idea the caliber of scientists we enjoy here," said Princehouse, who went on to explain that this region is both nationally and internationally acclaimed for its deep pool of scientific and technical expertise.
Both McGee and Princehouse felt that the new administration led by President Donald Trump has sparked some worries among scientists. For example, McGee pointed out that the budget for next year proposed by President Trump includes steep cuts to funding agencies such as the National Institutes of Health and National Science Foundation, which is "the lifeblood of many of Case's most innovative and exciting research projects."
"Scientific findings have been attacked as if they were political statements with no more validity than a call-in radio show," said Princehouse. "These are potentially desperate times for science .… The stakes are too high to risk the body of scientific evidence being bulldozed into the political landscape."
However, as the Facebook event page states, the March for Science is meant to be a non-partisan, peaceful event, not a means of further inflaming hostility.
"We want to emphasize a call for positive policies, not complaints about individual politicians' stances," she explained. "I'd love to see the march lead the way for a cultural transformation in Northeast Ohio."  
As of press time, 3,200 people have marked that they will attend and an additional 8,700 people indicated interest on the event's Facebook page.
Additional report by Srivatsan Uchani, staff reporter
About the Writer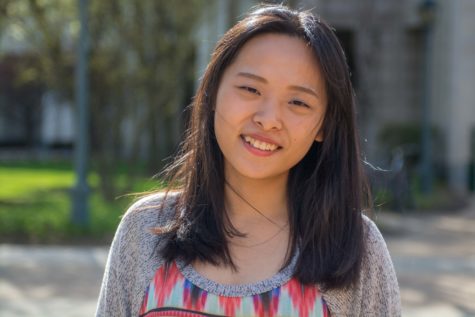 Celia Wan, News Editor
Celia Wan is a sophomore majoring in mathematics and history. She joined The Observer in the fall of 2015 and became the news editor at the end of her...