Fall Out Boy continue triumphant return with "American Beauty/American Psycho"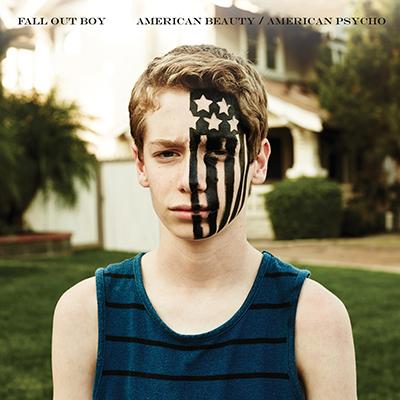 As a kid growing up in the heyday of "emo" music, the return of Fall Out Boy as chart-topping saviors of rock and roll isn't only a little unexpected; it's also a little weird to think about. Gone are the angsty, uncool guys in girl jeans and eyeliner that sang "Dance, Dance," and in their place are the new superstars of pop music.
The group's sixth record, "American Beauty/American Psycho," is in many ways a mirror held up to the point at which rock music and pop radio intersect in the 2010s: the trumpet fanfare on "Irresistible" is a riff on Capital Cities' summer hit "Safe and Sound," the melody on "The Kids Aren't Alright" sounds like one or more Bruno Mars songs, the dark talkbox riff that begins "Novocaine" sounds like a twisted version of "Uptown Funk" and "Favorite Record" acknowledges the growing hipster crowd and the resurgence of vinyl.
Maybe all of this ought to sound derivative, but a listen through "American Beauty/American Psycho" proves just the opposite. This album is the sound of Fall Out Boy tackling the world of modern music in all its messes and succeeding through a combination of Patrick Stump's earnest, soulful vocals and Pete Wentz's lyrical delusions of grandeur.
Perhaps no track better embodies this than "Centuries," a song that has taken over ESPN in recent months to become the biggest sports anthem since Queen's "We Will Rock You." Incorporating a sample of Suzanne Vega's "Tom's Diner" with sleek hip-hop production, this tune anchors the sometimes schizophrenic "American Beauty/American Psycho" with lofty and adventurous ambitions and a soaring vocal melody from Stump.
Another standout track, "Uma Thurman," assimilates the theme from The Munsters in a surf-rock attempt to channel the menacing sex appeal of "Pulp Fiction." It works. The furious punk-disco of the album's title track, the Eastern funk groove of "Immortals" and the paranoid ballad "Jet Pack Blues" are also highlights.
At its best, "American Beauty/American Psycho" is everything redeemable about pop music in the 21st century: an adventurous approach at being at being one of the biggest bands in the world. At its worst, well, it's just plain fun.
Album: "American Beauty/American Psycho"
Artist: Fall Out Boy
Release Date: Jan. 20, 2015
Rating: ★★★★½ stars
<\div>
Leave a Comment