Famed CWRU football coach Jim Chapman passes away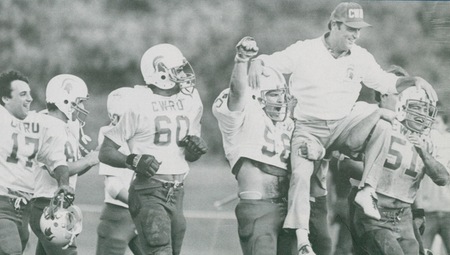 Jim Chapman took over head coaching duties at Case Western Reserve University in 1982, at a time when the program was at a major low. At that time, the Spartans had a losing record for 10 seasons out of the previous 11. Even worse, they were on a 22 game losing streak.
Enter Jim Chapman, the coach of a local area high school that had won five conference championships during the 1970s. Chapman wasn't the least bit worried coming into the job, even though CWRU lost to Oberlin College by 13 in his first game coaching. In their third year under Chapman, the Spartans went undefeated with an 11-0 record. This was the team's first undefeated season in 46 years.
Chapman's success came from two factors: motivation and education of the game. His fiery personality and intense attitude helped lift the spirits of everyone on the team. Along with his passion, he drilled players hard during practice and worked to help them understand their responsibilities.
The turnaround of the Spartan football program by Chapman was so impressive that it put him in the race for a head coaching position at Ohio University, a Division I school, and his alma mater. Due to reasons with the coaching search's timeline, Chapman withdrew his name. Chapman lead the Spartans for two more seasons, in which they went 14-3-1, and then he left to accept an athletic director and football head coach position at a high school. He then coached at Mercyhurst University and later was an assistant coach at Geneva College.
Chapman was inducted into the Ohio High School Football Coaches Association Hall of Fame in 2010. Eight of the Spartan players of Chapman's team went on to be inducted into the Spartan Club Hall of Fame. His undefeated 1984 team were the first-ever recipients of the University Award for Athletic Excellence at the annual Spartan Club Hall of Fame ceremony.
Chapman, 84, died peacefully in North Carolina last month. Chapman will be laid to rest with his wife at the Ohio Western Reserve National Cemetery.