Fifth-year basketball player returns after season long injury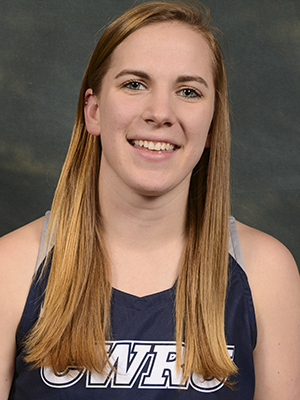 Kara Hageman is a graduate student and forward on the Case Western Reserve University women's basketball team. She retained a year of athletic eligibility due to a year-long injury in her fourth year but is back with a passion to succeed. She graduated with a degree in biomedical engineering and is currently pursuing a dual masters degree with a master of arts in bioethics and medical humanities and a masters of public health. In her free time, she loves to simply relax and hang out with friends at the Jolly Scholar.
What is your favorite part of being on the basketball team? Why?
My favorite part of being on the team has to be doing what I love with people that I love. I just think that being able to come together with other people who are also so passionate about this sport and being able to push each other to get better and play with them everyday is unlike any other experience I've had. Being on the team has not only allowed me to grow as a person but it has also given me life long friends.
Where did you get your passion for basketball? Any good stories?
I have two older sisters and two brothers, so even as a baby I was in the gym watching some of my siblings play. Then as I got older, one of my brothers was always trying to play basketball with me so he really was a big reason I got into the sport. I also have always been quite tall for my age and used to be pretty embarrassed about it, but then I found that it was a helpful thing when playing basketball, so being out on the court made me feel much more confident about my height. It's just always been something in my life that I have fun with and get to relieve any stress.
Do you have any games that you remember being particularly special? Why?
I think the one game I specifically remember was from my junior year in college (2016-17 season). It was Throwback Weekend so we were playing in Adelbert Gymnasium rather than Horsburgh. I always love Throwback Weekend because the whole gym has a more old school vibe and I think it can throw other teams off. Anyway, we were playing University of Chicago who was ranked in the top 25, I believe. They were also ranked top of our conference at the time. I had been feeling a little sick before the game, but once I got out there and had my teammates by my side everything just flowed, and we played together so well. We ended up beating them 80-78, which was the upset of our season. It was just one of the happiest and most exciting endings, and it was a game I will never forget.
Aside from basketball, what else are you involved in on campus? Can you explain what you do in them?
Yeah so I am actually a graduate student now, I missed my senior season last year due to an ACL injury, but am back as a grad student to use my fourth year of eligibility. That being said, the things I am involved in this year [are] slightly different than what I was in undergrad. But I was a member of Delta Gamma where I served as director of sisterhood events and director of Spartan Cup throughout my time there. I also was in Case Association of Student Athletes (CASA). I also worked in a biomedical engineering lab for Dr. [Anirban] Sen Gupta where I conducted research on platelet interactions with metastatic cancer cells. Currently, I still work in this lab as well as part-time as a research intern for a company called Haima Therapeutics, where I run different tests on synthetic platelets that we are making.
Why did you major in biomedical engineering? What interests you about it?
I decided to major in biomedical engineering [BME] because it was challenging, and I know how needed it is going to be as technology continues to develop. My whole family is very science-oriented, and two of my siblings actually graduated from CWRU as BME majors as well. So, I was exposed to this topic from an early age and found what they talked about and what they were doing to be extremely interesting, so I decided to pursue it myself. I find the intersection of human health and technology to be interesting and extremely important. Currently, I am pursuing a dual masters degree in the graduate school in bioethics and public health. I chose this route because I think it exposes me to a different kind of problem solving that might not be so black and white. It also is allowing me to gain insight on what types of medical developments are needed across populations as well as how to tackle problems that could arise with the rapid development of technology.
What do you hope to accomplish with the degree?
I am hoping to further my education to med school or in a Ph.D. program. I am very interested in clinical research and the translational aspects of research as it allows me to continue research while also interacting with patients and people to solve current health problems. I also am very passionate about trying to help those in underserved communities and trying to figure out the best way to have medical care available to them as well.
What are your favorite free time activities? Why?
My favorite thing to do in my free time is probably just grabbing some dinner and drinks with friends, typically at the Jolly Scholar. I just love the atmosphere of that place, and I think it is a perfect place to just relax and catch up with friends. I also enjoy playing the piano every now and again when I get the chance.
What is your favorite quote or what inspires you?
This is tough. I have quite a few favorite quotes all of which kind of inspire me at different times. This one may be a bit cheesy, but it is one from Ralph Waldo Emerson. I just think it sums up everything pretty well.
"To laugh often and much; To win the respect of intelligent people and the affection of children; To earn the appreciation of honest critics and endure the betrayal of false friends; To appreciate beauty, to find the best in others; To leave the world a bit better, whether by a healthy child, a garden patch, or a redeemed social condition; To know even one life has breathed easier because you have lived. This is to have succeeded."