"Fifty Shades of Grey" not just porn
While I came into the theater thinking I was just going to see a glorified softcore porn film, every aspect of "Fifty Shades of Grey" was better than what I thought it was going to be. For a movie that was hyped up just for the sex, "Fifty Shades" was all-round a really good movie.
Aspects such as setting and soundtrack were excellent. Little in the film felt cliché to me, even when the "hot millionaire's apartment" has been a setting in dozens of movies, and the soundtrack was quite fitting. (Having Beyoncé and The Weeknd appearances on the soundtrack was a perfect and obvious move, considering their song topics.) The one thing that did feel a little cliché was Anastasia Steele's (Dakota Johnson) change in wardrobe from "innocent schoolgirl" to "sexy secretary." It's probably what really happens when you start having sex with a millionaire CEO, but still: overdone.
The acting was excellent; both Johnson and Jamie Dornan, who plays Christian Grey, depicted scenes that would not have been easy conditions under which to act. For one, both characters had many complexities and two, acting out BDSM sex scenes has to be easier said than done.
And those sex scenes were pretty in depth. Obviously you don't see any genitalia, but what you do see looks like porn. Spoiler alert: You see thrusts. (In case you didn't know, you probably wouldn't want to watch this with your parents.) It's not just vaginal intercourse scenes that are in depth either; Mr. Grey completes a variety of foreplay actions and "plays" in his special room. The BDSM scenes are for the viewer to personally judge, and I feel like everyone's reactions will be different based on their personal preferences.
Going off the three-dimensional character development, Anastasia Steele was not some "Twilight" damsel-in-distress, letting the male lead push her around and change her life. With a movie that has glorified the sexiness of the male lead so much, Anastasia is the one that ends up calling the shots, wrapping the oh-so-unobtainable Mr. Grey around her finger.
And Mr. Grey was not some tortured soul that cries in the corner but wants to steal the ladies' hearts. Mr. Grey said he doesn't do romance, and sometimes his actions didn't seem very attractive to me. It was refreshing to feel so conflicted about the male lead. On one hand, Christian had a dark past that might excuse his behavior, but on the other, he's really controlling and manipulative.
I loved the story because the characters were real and interesting, and I'll recommend the movie to anyone who can handle watching sex on screen.
Bottom line: "Fifty Shades" has more sex than you'll probably see in any other (non-porn) movie, but it's still a film with a good story.
Film: "Fifty Shades of Grey"
Starring: Dakota Johnson, Jamie Dornan
Release Date: Feb. 13, 2015
Rating: ★★★☆☆
About the Contributor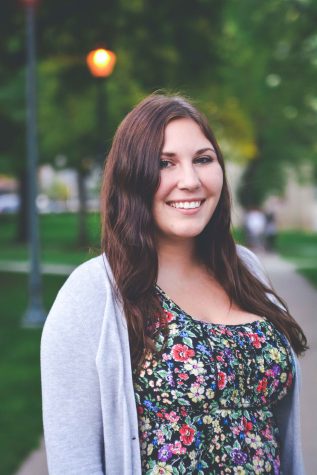 Alex Clarke, Arts & Entertainment Editor
Alex Clarke is a senior with majors in english and psychology and a minor in marketing. She also writes for Trill Mag, wrote for McClatchy newspapers for...