Film Society premieres "Game Night"
On Wednesday, Feb. 14, Case Western Reserve University Film Society screened "Game Night" nine days ahead of its Feb. 23 release. Despite publicizing the event all across campus, with posters hanging up in the Thwing Center and on message boards everywhere, the screening attracted a total of 17 people.  
The event was courtesy of the same marketing firm that brought "Justice League" to CWRU back in November. According to the director of Film Society Ashley Watts, Hogan Communications, which specializes in college campuses, offered the opportunity to the organization just before the end of winter break.
Hogan also provided many of the promotional materials, although this resulted in some difficulties for Film Society.
"Some of the stuff that they sent us was for the normal movie, but it didn't have any of the info for us," said advertising and schedule design manager Kyra Espinosa. "We set them out and wrote over them with all of our information before distributing it out."
Hogan also gave Film Society images to use for the Facebook event they used to promote the event."
However, despite the on-campus publicity, the film was unable to attract a large crowd, a significant difference from the full theater that "Justice League" attracted.
"[Turnout] was less than ideal … There were a lot of factors though … ["Game Night"] is very much a movie that would appeal to people older than college students by a significant margin. It's also Valentine's Day; it's Ash Wednesday; it's raining; it's a lot of stuff," said business manager Claire Nelson.
The film also was not as aggressively marketed nationally as "Justice League" was, and students may not have even heard of "Game Night" before the event—Espinosa hadn't. Because of this, students may have been unwilling to leave their homework in the middle of midterms.
"I was just sitting in [the concessions area] writing my lab," Espinosa said.
However, despite the low turnout, many of the audience members were not members of the CWRU community. According to Nelson, the number of outsiders was even greater than the number that showed up for "Justice League."
Starring Rachel McAdams and Jason Bateman, "Game Night" tells the story of a group of friends whose regular game night goes awry when the stakes are suddenly raised. As they left the theater, audience members could be heard talking about how fun the movie was.
Leave a Comment
About the Writer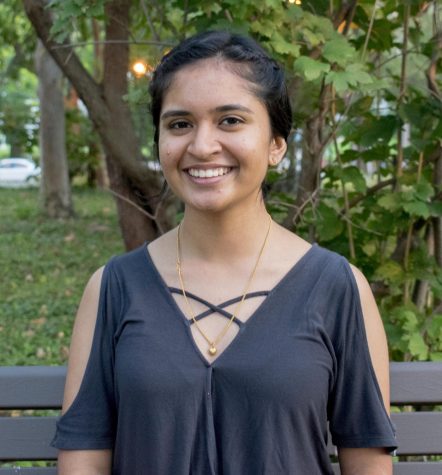 Smruthi Maganti, Arts and Entertainment Editor
Smruthi Maganti is a third-year student studying biology with a minor in public policy. After a year of copy editing, this is her first year as the A&E...