First-year soccer player off to a blistering start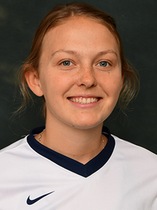 Aniya Hartzler is a first-year forward on the Case Western Reserve University women's soccer team. In just her first year, she is already off to an amazing start, scoring five goals and racking up four assists. This has helped the team to a 12-3 record so far in the season. Hartzler comes from a very soccer centered family, which made it only natural for her to follow in those footsteps. Outside the classroom, she loves to explore and try new things, whether that be food, places or activities.
Where did you get your passion for soccer? Any good stories?
I started playing soccer at a very young age. Both my parents played soccer as well as my grandfather who was the head coach at the local college in my hometown. I remember going to the practices when my grandpa was coaching and messing around with all of the current players. I attended most of the games and would sit on the roof over the benches with my brother and watch. My dad was also my coach when I was younger. We would go to practice and then come home and play 1v1 in our basement. Playing in the basement was our favorite thing to do, we set up empty bottles that we had to hit. Most of my life my dad could school me without even trying but once I was in high school I started getting better and eventually he struggled to beat me. My parents were really supportive but didn't necessarily push me to play soccer. They were still very influential in developing my love for soccer. 
Do you have any games that you remember being particularly special? Why?
There is one game I will always remember. It was my sophomore year in high school and because of injury, I couldn't play varsity my freshman year so it was my first year actually playing. The team made it to the sectional finals but we were the underdogs and everyone thought we would lose. We managed to keep it tied until the last 5 minutes of the game when we won a free-kick 25 yards out from goal. I took the free-kick and banged it into the top corner giving us the lead. We ended up winning and going on to regionals. It wasn't my most memorable game because I scored the winning goal, although it did help, but that as a team we were able to prove everyone who doubted us wrong. 
Why are you majoring in biomedical engineering and psychology? What interests you about it?
I love all of the science classes, I took as many as I could in high school, and I also enjoy the medical profession. I thought BME (biomedical engineering) was a good combination of all of those topics. My top choice of major is BME but psych was my favorite course in high school so I want to keep my options open which is why I am taking more general courses until I narrow down what I truly want to major in. 
What are your favorite free time activities? Why?
I really enjoy just hanging out with friends and having a good time, whatever that may be. I love trying new things, especially food, and going to new and exciting places. I'm very active and will always be down to do something random and spontaneous. I also love to read, mainly fiction and sci-fi genres but am open to other types as well.  
What is your favorite quote or what inspires you?  
I don't think I have a favorite quote but one thing that inspires me is being a part of a team. I always push myself harder when I have other people relying on me to do my best. That's one thing that I love about soccer, it's not a one-man show, every player is a piece to the puzzle and we all need to work together to achieve our goals.