First-year swimmer remembers the "sweet" moments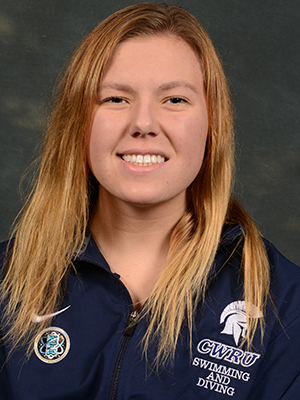 Daniella Rupert is a first-year student and freestyle swimmer on the Case Western Reserve University's women's swim team. In just her first year swimming at the collegiate level, she has already earned multiple first place titles at meets, including against Baldwin Wallace. When out of the pool, Rupert is pursuing a biomedical engineering degree and has recently become involved in Kappa Alpha Theta.
What is your favorite part of being on the swimming team? Why?
My favorite part is the people on the team. I have met so many wonderful, driven people who I have come to know and love. I have definitely made some lifelong friends.
Where did you get your passion for swimming? Any good stories?
When I was five years old I broke my arm so I joined a summer league team for rehab. I did not like swimming at first, I kept saying that I was going to stop after the end of the season. Then, I had my first meet, and I won my heat in one of my races and got a lollipop. I loved that feeling of competition and the possibility of winning, so I haven't looked back since.
Do you have any meets that you remember being particularly
special? Why?
My first college swim meet was super special for me. It was an away meet versus John Carroll [University] and we had such a good time because we were all swimming really well and were really cheering loudly for one another. I also had a concussion the week before, so I was super nervous [about] how I was going to compete but the meet ended up being a blast.
Aside from swimming, what else are you involved in on campus? Can you explain what you do in those organizations?
I am just getting involved with Greek life at Kappa Alpha Theta since I am still currently a new member. I am also a swim team representative for CASA (Case Association of Student Athletes) and slightly involved with the Newman Center.
Why are you majoring in biomedical engineering? What interests you about it?
[My first] year [of high school], I loved my biology class [and was] thinking I was going to be a biology major. I also ended up loving my physics class when I took it my junior year [of high school]. I think that [I chose] biomedical engineering because it would be the perfect combination of my love for physics and biology, as well as my love for art and being creative.
What are your favorite free time activities? Why?
I love hanging out with my friends, either watching movies or going exploring around town. I also love reading and hanging out with my family.
What is your favorite quote or what inspires you?  
"May today there be peace within. May you trust that you are exactly where you are meant to be. May you not forget the infinite possibilities that are born of faith in yourself and others. May you use the gifts that you have received, and pass on the love that has been given to you. May you be content with yourself just the way you are. Let this knowledge settle into your bones, and allow your soul the freedom to sing, dance, praise and love. It is there for each and every one of us." -Mother Theresa