Blooming into a new season
The tulips are rising.
Green shoots have popped out of the mulch patches in front of the Thwing Center, and that means one thing: Spring is here. In the next couple of months, flowers will appear all over a once-gray campus, brightening the walkways between classes and the entrances to buildings.
While the flowers are planted seasonally, their timing lines up well with Case Western Reserve University's commencement. According to Grounds Supervisor Daryl Costanzo, the flowers help create a first impression for visiting family members in the early weeks of May. However it is usually students who have been attending classes all year who notice flowers the most, especially after months of snow and slush.
Costanzo doesn't deny the struggle of planting delicate flowers in Cleveland's unpredictable weather.
"We live in a rough climate," said Costanzo. "It's all risky."
Despite this the tulips survived the months of record-breaking chill. At the end of April, grounds staff will take three weeks to plant large annuals, specially grown in six-inch pots.
"That's why they look so big," said Costanzo.
The soil used to grow the flowers is made mostly out of composted tree branches and leaves collected from campus in the fall. Using these natural materials saves CWRU money not only because they get free soil out of it, but also because they don't have to pay to dump the natural trash anywhere. What was once trash becomes CWRU's springtime flowers.
While many of the brighter plants come in for commencement, other perennials will continue to flourish throughout the summer and into the fall semester.
With all said, 9,500 flowers are planted each spring, produced by two local growers. They consist of annuals and perennials, along with carefully selected shrubbery.
"We're going for a tiered, layered effect," said Costanzo.
Costanzo's favorite is the SunPatiens flower. Peter Yanosko, who works for grounds maintenance, says his favorite flower is the begonia.
Yanosko believes that grounds maintenance gets the most recognition for their yearly flower work, even though the bulk of their job is keeping campus functional and presentable to both students and visitors.
"[The flowers] get more recognized," Yanosko said. "Everything else we do is behind the scenes. People look at color before they look at broken benches."
About the Contributor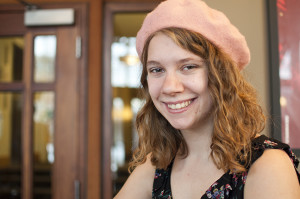 Anne Nickoloff, Director of Print
Anne Nickoloff, the Director of Print for The Observer, is a senior at Case Western. She hopes to one day be a music journalist, and has spent much of...