Football continues with winning streak and earns honors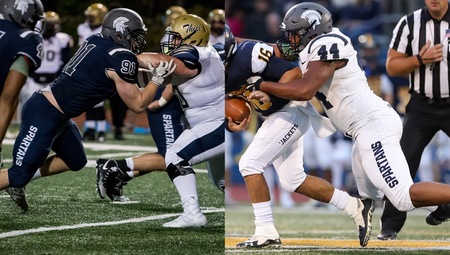 This past weekend, Case Western Reserve University's football team looked to remain undefeated when they traveled to Greenville, South Carolina to play against PAC rival Thiel College. With their 37-6 win, the team improved their standing in the season and conference, as they improved to a 3-0 in the season and 2-0 in the Presidents' Athletic Conference play. The team was led by game leaders second-year Drew Saxton, third-year Zach Hall and third-year Colt Morgan.
Quarterback Saxton completed 23-of-42 passes for 270 yards and three touchdowns with a pair of interceptions. Wide receiver Morgan was equally impressive, running 116 yards and completing nine passes with two touchdowns. Running back Hall scored a touchdown and ran 78 yards with 11 carries throughout the night.
As the game progressed under the Saturday night lights, the Spartans caught an early break, with game leader Hall scoring a 12 yard touchdown by 8:26. The second quarter saw dual action from Saxton and Morgan, with Morgan catching a pair of touchdowns to put the Spartans ahead by 14 points. With these touchdowns, Morgan moved into fourth place in program history with 24 career touchdown receptions. Linebackers, third-year Joshua Smith and fourth-year Isaac Withrow each added three sacks and four tackles respectively, and fourth-year cornerback Luke Bedell picked up a pair of passes, adding to his total passes this season, now recorded as a team high of three.
The third and fourth quarters were marked by two players scoring their first career touchdowns; third-year running back Brett Carney scored the sole touchdown in the third quarter at the 6:15 mark, catching a nine yard touchdown pass, furthering the Spartans lead of 28-0. Thiel scored their only touchdown in the third quarter, edging the score to 28-6. The extra resulting extra point was blocked by first-year Gabe Doree. First-year running back Jack McCrae scored the last touchdown in the fourth quarter, along with the team safety, as the clock timed out, securing the Spartans win at 37-6.
With outstanding play from all classes, the defense was a highlight of the night with 10 sacks throughout the game.
Fifth-year defensive end Cameron Brown finished the game with 3.5 sacks, just shy of his own record set against Saint Vincent College last season. After Saturday's performance, Brown has totaled 4.0 sacks this season and 28 for his career. He is now tied for third in program history in career sacks, and has moved within five sacks of the program's record. These statistics led him to be selected as both the Presidents' Athletic Conference and University
Athletic Association Defensive Player of the Week. Brown, the reigning PAC and UAA Defensive Player of the Year, has now garnered PAC Player of the Week honors five times, and UAA Athlete of the Week honors on six occasions. Fourth-year defense linesman Andrew Lease also earned honors, being named into the defensive tackle on the D3football.com Team of the Week.
As CWRU continues to look to extend their winning streak, they will return home this weekend for a key matchup against Westminster College at 7:00 p.m. on Saturday, Oct. 5 at DiSanto Field.