Football falls in home opener against Westminster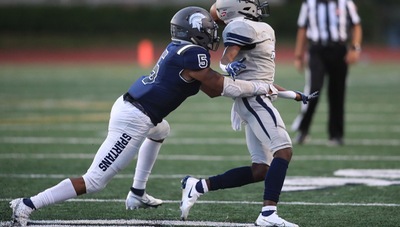 The Case Western Reserve University Spartans hosted their home opener last Saturday night against Westminster College where they suffered a 34-12 loss. With the loss, the Titans snapped the Spartans' two-game win streak and dropped CWRU to a 2-1 record.
After an offensive masterclass last week against Waynesburg, CWRU's offense was rendered completely moot this outing. Fourth-year quarterback Drew Saxton went 30 for 58 on his passing attempts, completing just above 50% of his throws while throwing a whopping five interceptions to just one touchdown. Third-year wide receivers Lucas DeCaro and Michael Wojkowski combined for 200 yards and one score and third-year running back Antonio Orsini contributed 18 carries for 74 yards and a touchdown. 
The Spartans opened the game with a touchdown drive that was fueled by a 42-yard pass from Saxton to DeCaro. Orsini then took it in from the two-yard line. However, a missed extra point by second-year kicker Brett Callow kept the score at 6-0.
Fourteen unanswered points led to the Titans taking a 14-6 lead. Their scoring streak started when Westminster College's ball carrier, defensive end Frank Antuono, ran a touchdown in. Then the Titans' special teams blocked a punt in the Spartans' own territory. This set up another touchdown run by Antuono, clinching the 14 point run.
CWRU managed to respond with an 11-yard touchdown pass from Saxton to DeCaro, but another missed extra point kept them trailing two points at 14-12. Unfortunately, the Titans capitalized on their momentum and went on a six play, 92-yard drive that ended with a touchdown to extend their lead to 21-12 right before halftime.
In the second half, it was tough sledding for the home team. Though the Spartans went scoreless in the third quarter and Saxton threw two interceptions, the defensive line prevented the Titans from extending their iron grip and kept the game close. Unfortunately, Saxton threw an interception at the goal line on third-and-10 during the fourth quarter. Westminster defensive back Brice Butler returned the interception 100 yards to extend the lead to 27-12. The Titans would add another touchdown in the final minutes of the game to seal their victory. The final score stood at 34-12, making for an abysmal home loss.
Perhaps the key story of this game was the turnover differential. The Spartans had five turnovers, all interceptions, while the Titans had zero. These mishaps, coupled with the blocked punt, gave the Titans too many short field advantages for CWRU to overcome. 
The Spartans continue their homestand next week in a matchup against the 11th ranked Washington and Jefferson Presidents where they will try to bounce back from this embarrassing home opener.