Football falls to Oberlin, to play Frostburg Saturday
Last Sunday, the CWRU Spartan football team fell to Oberlin, their first loss against that opponent in 28 years. The loss, which puts Case Western Reserve at 1-1, came as a surprise. "I didn't foresee us getting beaten that badly, just getting physically beaten up," said head coach Greg Debljak. "I'm not shocked that we lost, but in the manner that we did, I was very surprised."
"They just physically beat us," said Debeljak. "They were ready to play and I think we were feeling good about our performance against Marietta and didn't think Oberlin was going to be a problem. And they certainly showed us that we have to be focused and play every week."
The Spartans don't typically play on Sundays, and the unique schedule may have played a part, albeit small, in the loss. When asked if playing Sunday, rather than the team's usual Saturday, influenced the game's outcome Debeljak said, "It shouldn't have, but I'm sure it did. It, I think, led to some of the lack of focus things. It was just a very different environment and we didn't do a good job of adapting to it."
"I certainly don't want to ever play a Sunday game again," he said.
The loss, says Debeljak, was hard. "Very disappointing. Both on myself and how we performed. I don't want to ever go through that feeling again."
Oberlin's ground game outmatched the Spartan defense, with Yeomen running backs Moses Richardson and Blake Buckhannon putting 84 and 50 yards on the board, respectively. Even Oberlin's quarterback, sophomore Lucas Poggialli, managed 78 ground yards, tacking on 100 extra air yards for good measure. He scored touchdowns both on the ground and in the air, with Buckhannon slamming the nail in the Spartans coffin in the fourth with a 7-yard touchdown run. Oberlin's run game was the key to their success, racking up 219 yards on 52 carries. The Spartans only managed 16 yards on 22 carries.
"It certainly wasn't the greatest defensive game we've ever played," said Debeljak. "But holding a team to seven points for most of the game, we should have been able to win that game."
The Spartans central problem, said Debeljak, was a lack of offensive production. In addition to a lack of rushing yardage, CWRU only put 179 passing yards on the board, split between quarterbacks Billy Beecher and Erick Olson. The rush, generally a strength, was severely crippled, with running backs Kenny Riordan and Ricky Hanzlick only putting in 22 and 16 yards, respectively. "We didn't run the ball very well and that led to some long yardage situations, and if you put yourself in that, the outcomes usually aren't great," said Debeljak.
After their loss to Oberlin, the Spartans are heading to Frostburg State in Maryland, a team that beat CWRU in their last match up. Case Western will be challenged by FSU quarterback Ken Emmons. In his last game, versus Waynesburg, Emmons put up 384 yards in the air and 147 yards rushing, accounting for most of the game's scoring.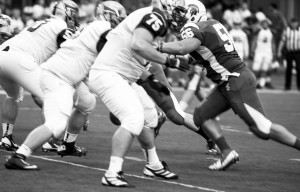 The Spartan defense will be centered around containing Emmons to the pocket in Saturday's game, said Debeljak. "That's the number one issue. Their quarterback, if you let him out in the open field, can really hurt you. He hurt us last year and it's very evident in the games this year that when he get out, he hurts you."
One problem in the game versus Oberlin was the Spartan offensive line, which allowed five sacks for a total loss of 28 total yards. "The issue there is injuries," said Debeljak of the line. "Our options are very limited. I think cutting down on what we're asking them to do will probably help."
By focusing on short passes, Debeljak hopes to alleviate some pressure on the line, though Frostburg's three-man front may present a different set of issues than those presented by Oberlin. However, Frostburg's scheme is similar to CWRU's, so the Spartan offense will see a version of the FSU defense in practice this week.