Football looking to experience to guide them to postseason
At the moment, there are 10 games on the football schedule. Each team in NCAA Division III football plays 10 regular season games, no matter what. Only 32 reach the playoffs and get to keep playing. The Case Western Reserve University Spartans are trying to be one of those 32 teams. After just barely missing the postseason last year, the Spartans return with a strong, experienced core and are looking to run the table in 2017. Every player that spoke with The Observer mentioned that the team's goal is to make the playoffs, and the only way to do that is to win all 10 games.
However, they don't let wishful thinking get the best of them. As Head Coach Greg Debeljak said, "We talked about [going undefeated] in the beginning and now we just do week by week, going 1-0 each week, and we can add up to 10-0."
Fourth-year inside linebacker Justin McMahon echoed his coach. He said that the team treats each contest like a playoff game and that they don't to want to get too far ahead of themselves at any point.
The first of the ten games takes place on Saturday, Sept. 2 as CWRU travels to Chicago to take on the Maroons from the University of Chicago. The first Spartans home game will be Sept. 16 when the team hosts the Grove City College Wolverines.
Offense
The Spartans offense focuses around fourth-year quarterback Rob Cuda. A dual-threat quarterback, Cuda ran for 908 yards last season, threw for 2,328 and accounted for 31 total touchdowns. The key for CWRU this season is going to be balancing Cuda's talents with the talents of the rest of the offense. The quarterback "took a beating last year," according to Debeljak, due to his high volume of carries, and he required offseason knee surgery. In addition to having to execute fewer quarterback runs, Cuda hopes to improve his decision making, taking more time to look for receivers instead of quickly escaping the pocket.
The hard hits Cuda took were not due to a lackluster line. Four starters on the offensive line received either All-University Athletic Association (UAA) or All-Presidents' Athletic Conference (PAC) honors last season and all four will be returning this year. Anchoring the line is fourth-year center Gage Blair, who had been recognized as All-PAC and All-UAA in each of the past three seasons. The unit includes fourth-year guards Ryan DeMarinis and Ryan Merlau, third-year tackle Steven Bachie and second-year tackle Derek Clontz, who is new to the starting five.
Keeping Cuda healthy all season is important not just because he is the man running the show, but because he is the heart and soul of the team. According to Debeljak, "The kids around him just believe in him. They believe if Rob is on the field, that we can win any game against anybody… People respond to him because they know he can get the job done."
Returning at running back are four fourth-year players: Jacob Burke, Jeffrie Brown Jr., Myles Anthony and Aaron Aguilar. Burke will take the majority of the carries after tallying 1,065 rushing yards and 16 touchdowns last season. Debeljak mentioned that he will try to involve all of his running backs as both runners and wide receivers, utilizing their talents and compensating for a less experienced receiving corps.
Leading those receivers will be third-year student Justin Phan. The speedy wideout poses a looming deep threat as he can outrun most cornerbacks who will try to cover him. Though Debeljak says the team is waiting for a player to step up into the number one slot, he identified Phan as the player most likely to take the role, if fully healthy (the wideout suffered a hamstring injury early in training camp and is questionable for Saturday's opening game).
Third-year wide receiver Joey Spitalli will look to build upon a solid 2016 while fourth-year wide receiver Luke DiFrancesco and fifth-year tight end Zech Medved are both returning from injury and hoping to recapture their stellar performances from two seasons ago.  
Defense
Despite suffering a multitude of injuries last season, the Spartans allowed just 18.7 points and 320.7 yards per game, including a meager 129.9 yards per game on the ground. With a vast majority of starters and key players returning from injury, CWRU is going to make it very difficult for opponents to score.
Fourth-year linebacker Justin McMahon cites the unit's physicality and experience as major strengths heading into the season. He said over email, "As a defense we want to be known as guys who play fast and physical with a swagger and attitude… I am confident that we can be a physically dominant defense this year."
The Spartans' dominating defense starts up front, with linemen who can both rush the quarterback and stuff the running game. Third-year defensive end Cameron Brown was a force on the line in his first season at CWRU, leading the team in both tackles for loss (13.5) and sacks (4.5). Debeljak mentioned third-year lineman Ian Henderson as a possible breakout candidate.
At linebacker, the Spartans have a group of experienced players. In addition to McMahon (a team leading 76 tackles), fourth-year inside linebacker Andrew Banathy returns after recording 40 tackles in just six games. Fifth-year student Zach Lyon joins All-UAA honorees Chanan Demery and Alex Habeeb at outside linebacker.
Fourth-year safety Cody Calhoun identified the front seven as the obvious strength of the defense. He said over email, "With a plethora of players with starting experience returning, I am confident we will have nationally ranked run defense."
Calhoun returns to the secondary after being limited to just one game last season. "The Sharks," as the defensive backs call themselves, are around the ball constantly. Fourth-year cornerback Adrian Cannon broke up seven passes and snagged three interceptions last season. Joining Calhoun at safety will be second-year student Patrick Crossey and fourth-year student Daniel Fabiniak. The duo combined for 95 tackles last season and showcased many "fins," the defensive backs' celebration.
A strength of the defense last year was its clutch play in both the red zone and on fourth down. Debeljak attributes the success to the unit's ability to rush any passer and flush him out of the pocket, as well as the play calling of Defensive Coordinator Warren Miller.
Though the defense is experienced, it's not without its weaknesses. Both Calhoun and McMahon, captains and leaders on the team, saw complacency as the one challenge to the defense's domination. McMahon mentioned that every player needs to be dialed in, while Calhoun noted that players with experience need to still work hard to achieve their success.
Special Teams
Though Debeljak has an aggressive mindset on fourth down (33 attempts in 2016), even he recognizes the importance of a quality special teams unit.
"We have some experience there that we feel really good about," he said. "I think we're in pretty good shape."
Fourth-year kicker Ben Carniol returns for the Spartans as the primary option on short and medium range field goals. For his career, the veteran has missed just four field goal attempts and converted 93 percent of his extra point tries.
At punter, Burke will be the one stepping in on the rare occasion the Spartans offense stalls. The two-way player averages nearly 40 yards per punt over his three year career, with 70 kicks over that time span. Of those 70 punts, 18 of them (26 percent) have landed inside the 20 yard line. Expect to see first-year kicker Quinn Saluan taking punts as well, replacing Burke when the running back gets too tired late in games.
Returning kicks will be Phan and Calhoun. In his first two seasons, Calhoun was one of the Spartans' main returning options and will return as a big play threat again in his final season.
Leave a Comment
About the Writer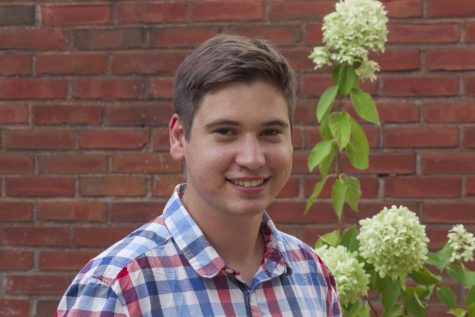 Eddie Kerekes, Executive Editor
Eddie Kerekes is in his fourth year studying chemical engineering while also pursuing a minor in German. He serves as the executive editor. Previous roles...