Football routs Grove City
Defense pitches shutout in game delayed by weather
Not even Mother Nature could stop the Spartans' offense, as the football team cruised to a 55-0 win last Saturday over Grove City College in a game twice delayed by weather. Both delays were due to lightning seen in the area, with the first one coming late in the first quarter and the second more than doubling the length of halftime. With the win, Case Western Reserve University improved to 2-0 on the year and 1-0 in the Presidents' Athletic Conference (PAC). Grove City dropped to 0-3, with a 0-2 mark in the PAC.
"It was a little more difficult to throw the ball … so we struggled a little bit," said Head Coach Greg Debeljak. He added, "It was good to get away with a win. It wasn't going to be pretty, but sometimes you have to win games like that."
Fourth-year wide receiver Brendan Lynch added, "[The weather] really put a damper on things. [Third-year quarterback] Rob [Cuda] was having a lot of trouble gripping the ball because it was so slick and wet."
The weather was not going to upend the excellent job of the CWRU defense. During the shutout, Grove City only managed a total of 136 yards on offense, a result of a total team effort. The Spartans picked off Wolverine quarterback Brett Laffoon three times and caused two fumbles, recovering one.
First-year safety Patrick Crossey led the team with six tackles and also forced a fumble. Debeljak called Crossey, who won PAC Rookie of the Week honors for his play, "as solid as they can be." Sticking in the secondary, third-year safety Daniel Fabiniak recorded his first career interception. "It was nice to see a kid who's been with us a couple of years [be] ready to play," Debeljak said of Fabiniak.
It wasn't just members of the backfield nabbing interceptions though. Fourth-year nose guard Tyler Doty snagged his first career interception and also logged a quarterback hurry. Third-year linebacker Chanan Demery recorded CWRU's third pick of the day and was third on the team with four tackles. He caused even more damage with a forced fumble.
Debeljak had nothing but praise for his defensive unit, saying, "The defense, the whole game, played great. Coach [Warren] Miller's plan was tremendous and those kids really executed it well."
The defense suffered a major blow early in the game when fourth-year linebacker Zach Lyon injured his foot after recording two sacks and four tackles. The broken foot will cause him to miss the rest of the season, the Spartans' second season-ending injury on defense this season. Third-year safety Cody Calhoun also suffered a broken foot earlier in the year.
"We will be different without them, but it doesn't mean we can't be good," said Debeljak. "We have to have the next man up philosophy and trust that the guys coming in can do the job."
Offensively, CWRU was not as good as the scoreboard indicated. The Spartans only managed to put up 21 points in the sloppy first half, and didn't really start clicking until the third quarter finally got underway. It was the Cuda-Lynch connection that really fueled the Spartans' second half run.
Lynch tied a 19-year CWRU record with 222 receiving yards on only nine receptions. Three of those catches came in the end zone, a career high. Both player and coach were unaware of the history in progress as the game progressed, only finding out after the game.
"It's a very nice accomplishment. I know there have been so many good receivers to come through this program so it feels nice to be mentioned in the same breath as them," said Lynch. Though he's worked hard to recover from a torn ACL in his second year, Lynch also credited his teammates and coaches as a big part of achieving the record.
Lynch currently ranks fifth in the NCAA in receiving yards per game and was named to the d3football.com Team of the Week.
In the second half, the Spartans scored on five consecutive drives and blew open their 21-point halftime lead. Cuda finished the day with 337 yards and four touchdowns, adding one on the ground as well. Fourth-year fullback Jacob Burke led the team with 71 yards on the ground and two touchdowns of his own.
Cuda's touchdown run in the first half was set up by a blocked punt from fourth-year cornerback Nick Kwon.
Next week the Spartans continue PAC play with a trip to Waynesburg University (0-3, 0-1 PAC) on Saturday to take on the Yellow Jackets. Their winless record is deceiving as the team played two solid teams in Carnegie Mellon University and Westminster College and lost their other game on a missed field goal. The Spartans are 1-1 against Waynesburg in their history, crushing them last season 45-14 while losing 35-15 in 2014.
Defensively the Yellow Jackets are a force to be reckoned with. Third-year defensive lineman Brad Grinnen has caused havoc in the backfield all season, already recording 20 tackles and four sacks in three games.
Debeljak believes his team will be able to contain Grinnen with their offensive line scheme and good play up front. It will be strength on strength in the trenches whenever the Spartans have the ball and Grinnen lines up facing the experienced CWRU offensive line.
The Observer prediction machine believes the Spartans will continue their winning ways with a 56-17 victory away. Expect the game to be closer, though, as the Yellow Jackets are better than their stats say. CWRU finally returns home to DiSanto Field for a night game on Oct. 1 when they take on St. Vincent College, with kickoff expected to be at 6 p.m.
About the Writer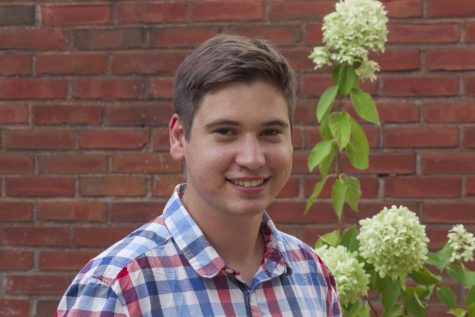 Eddie Kerekes, Executive Editor
Eddie Kerekes is in his fourth year studying chemical engineering while also pursuing a minor in German. He serves as the executive editor. Previous roles...