Founder's Note: Celebrating the Class of 1972's 50th Anniversary and the founding of The Observer
The beyond-extraordinary education I received as an undergraduate at Case Western Reserve University between 1968 to 1972 meant the world to me, and ultimately to the world itself. 
I am usually a very modest fellow, unable and unwilling to toot his own horn, but the passage of half a century calls for an explanation, and The Observer is the right place to tell it, as I am a co-founder of it. This newspaper shaped me as much as I shaped it.
The Observer still reflects my personality, even more than 50 years after my classmates and I founded it with a specific purpose in mind in 1969. Reading it today I can see that it is insightful, irreverent and truthful—just as we started it.
Background
When I left my native New York City for freshman year at CWRU in September 1968, my late father, Dr. Jerome Kerson, gave me his most prized possession: his World War II U.S. Army Air Corps flight jacket, military green with a large brown fur collar to keep the body warm in the unheated military airplanes of the time. (In World War II, the U.S. Air Force had not yet been created, and the Air Corps was part of the Army.)
It had a somewhat faded U.S. Army insignia on the shoulder. I asked him why he wanted me to have it, but he would not say. All during the 17 years I had grown up in his house, my father would never speak of his wartime experiences, except once, when he told me, "You know, when I was not much older than you, I operated on men who had no faces."
I knew the basic facts of his U.S. Army Air Corps service. He had not flown at all. He was a student at the New York University College of Dentistry when World War II commenced. The Army drafted the students, the faculty and the building all at once. The Army operated the school on double-time and overtime, as the students were transformed into dental surgeons as fast as they could be sent to military hospitals. My father was assigned to Tinker Field in Oklahoma, treating the severely wounded.
Draft Cards
At CWRU in 1968, virtually all the first-year students had fathers who were World War II veterans. My father had risen to the rank of Captain—a far higher rank than most—and I was wearing his Captain's jacket when CWRU decided it was going to require Adelbert College students to have draft cards. (Adelbert College is the predecessor to today's College of Arts and Sciences.) In this action, the university was following the law of the federal government of the time. On my 18th birthday, I duly reported to the clerk in charge of draft card applications in the basement of Adelbert Main, and filled out the required form.
When I was in the fourth grade, our teacher at Public School 61 Manhattan, Mrs. Gertrude Weiner, told us that a truly educated person had to read The New York Times or The New York Herald Tribune every day. Soon thereafter, the Herald Tribune closed, except for its New York Magazine, which still exists but only as a weekly, and rather a weak one at that.
Failure to do so, she taught, doomed one to a life of ignorance. So, when I went into Adelbert Main to register for my draft card in February 1969, I knew exactly what it meant, having been a daily New York Times reader for seven years at that point. 
I knew it was a death warrant. It meant the holder could be called upon at any moment to leave CWRU, given a primitive M16 rifle with a bayonet and sent around the world to Vietnam to kill people who were no threat to us by stabbing and/or shooting them in hand-to-hand combat. It also meant that they would be trying to kill you too. And for what? 
I told my father about the draft card application. I then saw what I now know to be Post Traumatic Stress Disorder (PTSD), a condition that was not recognized or named in 1969. He became red in the face, and very angry, shouting, "No son of mine is going to do anything even remotely like that!"
Derivative PTSD
Soon thereafter, the hit movie "M*A*S*H*" came out. I saw it at the Severance Mall with my fellow draft-card holders. The lead character, Captain Hawkeye Pierce, was a military surgeon. Every night, he drank a vodka martini with an olive at the bottom of a triangular shaped glass, and he drank to forget all the blood he had seen that day.
All during the time I was growing up in his house, my father drank that exact same vodka martini with that exact same olive in that exact same glass, despite the fact that his military hospital service was 10, 15 and 20 years past. Operating on men who had no faces never leaves you. It just sits there, like a series of rocks holding you down.
And then there was the Holocaust. My father's parents and my mother's parents had been immigrants to New York City 20 years before World War II, so my parents were native New Yorkers. But my grandparents left behind brothers and sisters, nieces and nephews, all of whom were executed in the Holocaust together with everyone in their ancestral villages.
I knew my grandparents growing up. I knew their sadness. Without saying so, my father knew that they could not take the death or wounding of a grandson. They had already experienced enough death and destruction for several dozen lifetimes. 
These facts also explained his PTSD and what I have come to understand as derivative PTSD as I walked around CWRU wearing the jacket he wore when he tried to heal our severely wounded soldiers from World War II.
The Nazis were certainly worth defeating at all costs, but the Vietnamese? Surprise, surprise, Washington, the Vietnamese were not Nazis. They could have learned this by taking "Western Civilization" at CWRU, as I was at the time.
Pre-Revolution Discussions
All of this was the subject of discussions far into the night with my fellow draft-card holders at Adelbert College of CWRU at Clarke Tower, where many of us resided.
"Is it better to kill or be killed?" we all asked ourselves repeatedly. Could one live with the guilt of killing an "enemy" soldier who was no enemy at all? How would that affect the rest of one's life?
Would it be better to die, and not live with the guilt of traveling all around the globe to a foreign country to kill people who could never have threatened the United States, no matter how hard they tried?
And so we met one night in the late Jon Poole's room in Cutler House in April 1969—Jon, Doug Smock, Blake Lange, Larry Levner and I. We all had draft cards. We had temporary college student deferments, called "2-S" in Pentagon jargon. But we had no idea how long that would last.
Doug was Editor-in-Chief, Jon was Business Manager, Larry was Managing Editor and I was Sports Editor of The Reserve Tribune, the student newspaper of Western Reserve University. Blake was Editor-in-Chief of The Case Tech, the student newspaper of the Case Institute of Technology. Case and Western Reserve had federated two years before, in 1967, so this was a perfect time to merge the student newspapers.
But we also wanted to merge for a higher purpose: We were going to stop the war. We were going to prevent the drafting, and likely the killing and wounding of our fellow students. We would relegate the antics of fraternities to the back pages, and anti-war activities would be our first priority.
So we pledged to each other to do this and keep each other alive. A contest was held to pick the new name. Larry chose the winner, The Observer. Larry would be the new Editor-in-Chief, Jon would remain Business Manager, Blake would be Managing Editor and I would be News Editor. Doug was graduating, but agreed to remain at CWRU to help us start The Observer and end the war.
I would heal our soldiers before they got wounded in the first place. I would support the work of the Medical Corps of the U.S. Army Air Corps, but before any blood was spilled, not after.
The Observer's First Year
I attended the Woodstock Music and Art Fair, an anti-war rally masquerading as a concert, in August 1969 and wrote the story for Volume I, Issue 1 of The Observer in September 1969.
We piled into Larry's large Ford sedan in November 1969 and attended the largest demonstration in American history in Washington, D.C. I walked around Washington madly scribbling in my reporter's notebook. I wrote the story on the long drive back to CWRU. Everyone said it was a far better account of what happened than what was printed in The New York Times, The Plain Dealer and Cleveland Press.
Our University Undergraduate Student Government (UUSG), the financial support of The Observer, led by our President Sheldon Laube, voted to host the Student Mobilization Committee national convention at CWRU in February 1970. Delegations from every major university in the nation came to CWRU to discuss how to end the war.
The plan was this: the First, Second and Third Estates—the executive, legislative and judicial branches of the U.S. government—wanted to use our bodies to wage a mistaken war, but we in the Fourth Estate—the student press—would have none of it.
We would urge the closing of the Reserve Officers Training Corps (ROTC)—military training for officers on every major college campus. Try conducting your mistaken war without officers. Take that, First, Second and Third Estates.
I convinced my 35 Observer reporters to cover each and every convention session at the Adelbert Gym and each and every teach-in around the CWRU campus. I had each name and location on large blackboards at The Observer office in Thwing Hall, the student center of the time.
As I was doing this, in walked, unannounced, John Kifner. I was still only 18 years old, but I immediately knew who he was, thanks to my fourth grade teacher, Mrs. Weiner. I had read his articles over the past seven years. He was the revolutions reporter for The New York Times.
The Times sent John anywhere in the world where governments were being challenged by their own people. And so he had come all the way from New York City, apparently to see me, although he did not know my name. He was looking for the News Editor at the CWRU college newspaper, and that was me.
And so he asked me, "What is this anti-war movement all about?"
And so I told him, in the fast paced New York speech he was quite used to, exactly what you have just read.
On May 4, 1970, U.S. National Guard soldiers killed four of our fellow students down the road at Kent State University. The reaction at CWRU was immediate. We thought this was deliberate and that we were next. A candlelight memorial march from Clarke Tower to the Case Quad appeared out of nowhere with hundreds of students carrying one candle each.
People wanted to leave. They thought the campus was unsafe. Many wanted to stay, saying the U.S. National Guard could not close us through fear. I also was the Adelbert College Student Senator on the Faculty Senate. I negotiated a deal with Prof. B.S. Chandrasekhar, Chair of the Faculty Senate, so that CWRU would remain open for those who wanted to stay, but that those who wanted to leave could complete their courses on a Pass-Fail basis. It passed.
So who was governing the United States in February 1970? The First, Second and Third Estates in Washington, or the Fourth Estate of university student newspapers and governments led by The Observer and CWRU UUSG?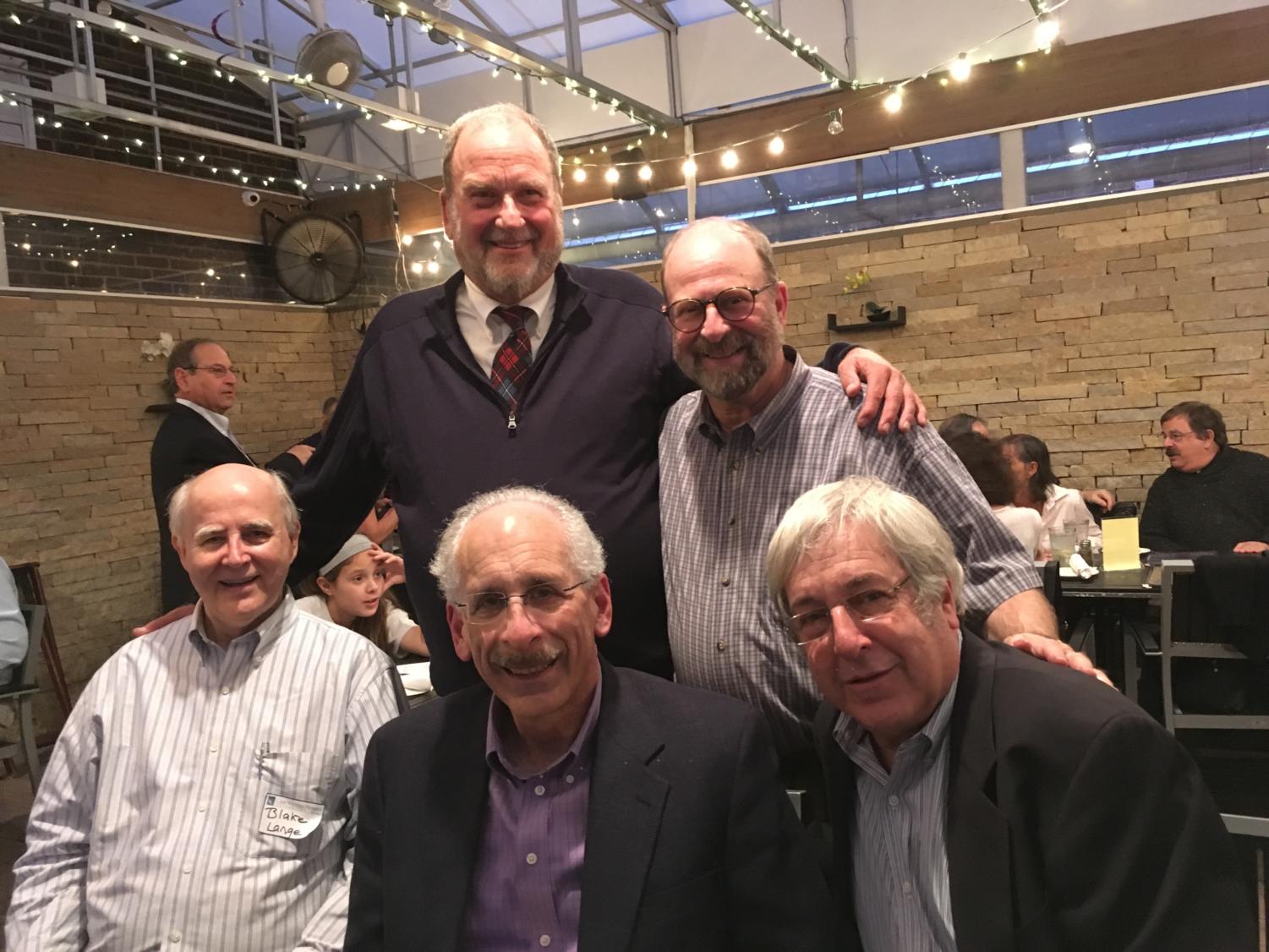 The Life-long Lessons of a CWRU Education
It is 53 years later. The draft is gone, gone, gone. The military has been mechanized to the extent that a volunteer soldier in a Nevada office building can kill a true enemy of the United States with an armed drone controlled by his computer thousands of miles away from the target. Hand-to-hand combat with an M-16 and a bayonet is not their favored method of "defense" any more.
The lesson of our college years can be finally summed up: When the federal, state or local government is going in the wrong direction, our American civic values call upon us to speak up.
Robert McNamara, the U.S. Secretary of Defense who designed the Vietnam War, wrote a book, "In Retrospect: The Tragedy and Lessons of Vietnam" in 1995. In this book, he admits that the Vietnam War was "wrong, terribly wrong."
If only he and his successors had read The Observer in 1969 and 1970, he would have understood this fact early enough to save countless lives before the war finally ended in 1975.
58,220 American service people my age died in Vietnam. They did not get to attend their 50th college reunions, nor their 40th, 30th, 20th, 10th or earlier ones either.
Three million people died in the Vietnam War. This was far worse than the "wrong, terribly wrong" actions that Robert McNamara symbolically wept about in his 1995 book, 20 years later.
The rights to freedom of the press, freedom of speech and participation in the federal and state judicial systems are not just rights—they are profound responsibilities. In our system we have ingrained the concept of judicial review of executive and legislative branch decisions. The judiciary has the last word.
The way our system of government works is this: judges cannot exercise their judicial review function because they feel like it. Some lawyer must prepare and file the case and present it to them. And some well-motivated citizen, resident or otherwise interested party must hire a lawyer to do this.
The lesson from our college years:
Be that citizen.
Be that lawyer.
And so that is what I did with this beyond-extraordinary college education. I resolved to be "part of the solution, not part of the problem," as we always said in those days.
For doing what I did at ages 18 and 19, CWRU gave me every honor it could think of at our graduation 50 years ago in 1972: Outstanding Senior, Phi Beta Kappa, a master's degree in political science, departmental honors in political science and sufficient letters of reference to be admitted to the Columbia University Law School.
When I graduated from law school in 1975, I refused to take any job with any law firm associated with the war effort, or that represented any corporation which oppressed ordinary people. 
In my mind, I was always compelled to register for the draft against my will on my 18th birthday in Adelbert Main. If they could take my life, they could take anyone's life or property. If I could help to stop them at age 18, certainly I could continue to do so.
I spent nearly two years as a New York State Assistant Attorney General prosecuting official corruption cases. I then opened my own law firm with a law school classmate, still going strong 45 years later. We are known as Leavitt, Kerson & Sehati of Forest Hills, NY.
We have had some notable successes in this regard.
In Weiss v. Feigenbaum, 558 F. Supp. 265 (E.D.N.Y. 1982), we established the principle that a city board of elections cannot cancel primary elections by allowing government patronage workers to challenge nominating petitions on government time. Since 1982, because of this case, New York City has had far more contested elections than it ever had before.
Weiss v. Feigenbaum has become the seminal case in New York City local government and politics. It stands for the proposition that "party bosses" cannot manipulate the electoral system to choose all the candidates for city council, state legislature, U.S. congress member and other elective offices. After this U.S. District Court decision in 1982, the voters now decide the candidates.
The judge who decided this case, the late Charles Sifton, told me many years later that Weiss v. Feigenbaum was the most important decision of his long judicial career.
Is this why New York City is far more prosperous than it was before 1982? Do vigorous, highly competitive elections make a better society? These questions are not easily answered, but we suspect that democracy and the economy work best with better and more numerous elections.
Large numbers of competitive elections create a dynamism of creativity that feeds economic activity. Politics, government and economics are not entirely separate topics. They are completely interrelated.
Certainly this was the teaching of the CWRU Department of Political Science in my college years. Weiss v. Feigenbaum made it so that CWRU was teaching the law of New York.
In Britt v. Garcia, 457 F. 3d 264 (2d Cir. 2006), we achieved a $7.65 million jury verdict against the state corrections commissioner and deputy superintendent of the Sing Sing Correctional Facility for running an unconstitutional prison.
In that case, a prisoner was nearly stabbed to death because prison officials put him in a cell with another prisoner who made a death threat against him. Liability was sustained and a new trial ordered on damages. A reduced settlement was reached on the eve of the second trial to an amount which I cannot disclose.
In Webb v. Goord, 197 F.R.D. 98 (S.D.N.Y. 2000), affd. 340 F. 3d 105 (2d Cir. 2003), we painstakingly collected similar brutal testimony from 37 prisoners all around the state prison system, and tried to arrange a federal takeover of the thoroughly defective state prisons. The courts would not let us do this, but Britt v. Garcia grew out of our efforts in Webb v. Goord.
After eight years of being chased by the fellow who explained the anti-war movement to John Kifner at age 18, and suffering the $7.65 million verdict, the New York State Department of Correctional Services (DOCS) decided to change their name to the New York State Department of Corrections and Community Supervision (DOCCS). Their new philosophy was to control the violence they themselves created by releasing as many prisoners as they could as early as they could, thereby reducing the size of the prison population and thus, the violence.
In a state with residents from 180 different countries, why are the vast majority of prisoners African American men? And what does this sorry fact do to African American women and children? The idea that every non-violent prisoner can be released as soon as possible is a source of great pride. When the jury came back with the $7.65 million verdict, I understood how President Lincoln and Dr. King must have felt. 
It was the values learned at CWRU that produced this moment. Recall that CWRU's original incarnation, Western Reserve College, was a stop on the Underground Railroad at a time when numerous more "prestigious" colleges were profiting from slavery.
In Nacher v. Dresdner Bank, 198 F.R.D. 429 (D.N.J. 2000), 213 F. Supp. 2d 439 (D.N.J. 2002), 236 F.R.D. 231 (D.N.J. 2006), 240 Fed. Appx. 980 (3d Cir. 2007), cert. den. 552 U.S. 1098 (2008), we established the principle that the New York Branch of the Dresdner Bank would be held responsible for financing World War II against the United States, Great Britain, France and Russia and for financing the Holocaust with the stolen property of the European Jewish community, even 60 years after the fact. 
Our legal theories in Nacher v. Dresdner Bank were copied in 56 other cases around the country. All 57 were taken over by the U.S. Treasury Department and settled for $5 billion.  Every Holocaust survivor in the world received $7,000, a small fortune in impoverished Romania, Belarus, Latvia and Poland in 2001, when the funds were distributed. We pursued this case for 14 years, from 1994 to 2008.
The other 56 cases targeted all the other German corporations who financed World War II with stolen funds. There was a day in the year 2000 when the U.S. Treasury Department assembled 28 of these cases in the U.S. District Court in Newark, New Jersey for settlement purposes.
"Your honor, this is the accounting for World War II," I said to a packed courtroom. I spoke first because Nacher v. Dresdner Bank was the first of these cases to be filed, the one that inspired all the others. You could have heard a pin drop. There was silence from all the big firm American lawyers representing every large corporation that brought about the 60 million deaths of World War II with the stolen property of the European Jewish community.
This too was a CWRU moment. I only understood the details of the administration of post-war Germany from the lectures of CWRU political science professor Ken Grundy in his course, "Soviet Foreign Policy," which I took in 1971. In 1994, 23 years later, that course was fundamental to drafting the complaint in Nacher v. Dresdner Bank.
On the strength of repeatedly seeking judicial review of truly bad executive branch misconduct, I was elected to the ultimate establishment position in 2015 at the age of 64—I served a traditional one year term as president of the Queens County Bar Association, loosely in charge of the state and local judiciary in a very large metropolitan county.
Without CWRU, I don't think I could have done any of this. Throughout these multi-year court battles, the teachings of deans Sam Gorovitz and B.S. Chandrasekhar and professors Marty Plax, Ken Grundy, Jim Ford, Bob Fippinger, John Richardson, Jerry Combee, Anthony DeCrespigny, Martin Abravanel and Maurice Klain of the Department of Political Science and professor Charles Rehor of the English Department were always with me.
How to Write and Edit in the Internet Age
The late professor Rehor was the last faculty adviser of The Reserve Tribune and the first faculty adviser of The Observer. He never told us what to write. He carefully reviewed our articles with a red pen only after they were published.
His lessons on writing are with me every day:
Short sentences.

Short paragraphs.

Be aware of how the page appears to the reader.

No run-on sentences.

Always get the facts straight.

Spelling counts.

Use boldface subheads to break up the page and enhance the reader's understanding of the main ideas.
By following these lessons every day in writing pleadings, affidavits and briefs, over the years, I have persuaded state and federal judges to actually think about what these cases mean to the litigants. My name can be found in law reports 182 times, more than anyone else I know. I attribute this to Dr. Rehor and his red pen, and me sitting there in his basement office in Clark Hall with him explaining to me how to be a good newspaper writer and editor.
From the beginning, The Observer was part of the CWRU English Department's curriculum. We got four independent study credits for learning from Dr. Rehor.
Dr. Rehor taught us the role of an American newspaper editor. He taught us that the First Amendment gave the newspaper editor rights, but also responsibilities—to get the facts straight and not to print salacious gossip and private embarrassments that had no newsworthiness.
The internet today makes everyone a publisher without the wisdom he taught us. If only every internet poster could take Dr. Rehor's course!
I am currently at work trying to establish a judicial "right to be forgotten"—a new right of individuals to remove embarrassing material from the internet. This new right to be forgotten has been recognized by the highest court of the European Union. I am trying to get American courts to adopt it.                                                                                                                                                                                                                                                                                                                                                                                                                                                                                                                                                                                                                                                                                                                                                                                                                                                                                                                                                                                                                                                                                                                                                                                                                                                                                                                                                                                                                                                                                                                                                                                                                                                                                                                                                                                                                                                                                                                                                                                                                                                                                                                                                                                                                                                                                                                                                                                                                                                                                                                                                                                                                                                                                                                                                                                                                                                                                                                                                                                                                                                                                                                                                                                                                                                                                                                                                                                                                                                                                                                                                                                                                                                                                                                                                                                                                                                                                                                                                                                                                                                                                                                                                                                                                                                                                                                                                                                                                                                                                                                                                                                                                                                                                                                                                                                                                                                                                                                                                                                                                                                                                                                                                                                                                                                                                                                                                                                                                                                                                                                                                                                                                                                                                                                                                                                                                                                                                                                                                                                                                                                                                                                                                                                                                                                                                                                                                                                                                                                                                                                                                                                                                                                                                                                                                                                                                                                                                                                                                                                                                                                                                                                                                                                                                                                                                                                                                                                                                                                                                                                                                                                                                                                                                                                                                                                                                                                                                                                                                                                                                                                                                                                                                                                                                                                                                                                                                                                                                                                                                                                                                                                                                                                                                                                                                                                                                                                                                                                                                                                                                                                                                                                                                                                                                                                                                                                                                                                                                                                                                                                                                                                                                                                                                                                                                                                                                                                                                                                                                                                                                                                                                                                                                                                                                                                                                                                                                                                                                                                                                                                                                                                                                                                                                                                                                                                                                                                                                                                                                                                                                                                                                                                                                                                                                                                                                                                                                                                                                                                                                                                                                                                                                                                                                                                                                                                                                                                                                                                                                                                                                                                                                                                                                                                                                                                                                                                                                                                                                                                                                                                                                                                                                                                                                                                                                                                                                                                                                                                                                                                                                                                                                                                                                                                                                                                                                                                                                                                                                                                                                                                                                                                                                                                                                                                                                                                                                                                                                                                                                                                                                                                                                                                                                                                                                                                                                                                                                                                                                                                                                                                                                                                                                                                                                                                                                                                                                                                                                                                                                                                                                                                                                                                                                                                                                                                                                                                                                                                                                                                                                                                                                                                                                                                                                                                                                                                                                                                                                                                                                                                                                                                                                                                                                                                                                                                                                                                                                                                                                                                                                                                                                                                                                                                                                                                                                                                                                                                                                                                                                                                                                                                                                                                                                                                                                                                                                                                                                                                                                                                                                                                                                                                                                                                                                                                                                                                                                                                                                                                                                                                                                                                                                                                                                                                                                                                                                                                                                                                                                                                                                                                                                                                                                                                                                                                                                                                                                                                                                                                                                                                                                                                                                                                                                                                                                                                                                                                                                                                                                                                                                                                                                                                                                                                                                                                                                                                                                                                                                                                                                                                                                                                                                                                                                                                                                                                                                                                                                                                                                                                                                                                                                                                                                                                                                                                                                                                                                                                                                                                                                                                                                                                                                                                                                                                                                                                                                                                                                                                                                                                                                                                                                                                                                                                                                                                                                                                                                                                                                                                                                                                                                                                                                                                                                                                                                                                                                                                                                                                                                                                                                                                                                                                                                                                                                                                                                                                                                                                                                                                                                                                                                                                                                                                                                                                                           
This would be a limitation on the First Amendment rights of internet websites and publishers—quite a life journey for a college newspaper editor. But I think Dr. Rehor would be proud that his teachings about the rights and responsibilities of editors were being spread far into the future.
"The pen is mightier than the sword," said playwright Edward Bulwer-Lytton in 1839. True then. True in 1969.
True today, rephrased: The internet is mightier than all swords, and thus must be managed intelligently, lest swords replace it.