Four Spartans swim at NCAA Championships
Four Spartan swimmers stand on a pool deck in Texas. Junior Aaron Tam rocks out to classic rock and roll. Drew Hamilton shuffles across the floor, dancing and listening to his EMD playlist, "Limbo Daddy Yankee" likely blasting through his headphones. Teammate and senior Eric Haufler listens to rock band "Rise Against," while freshman Oliver Hudgins jams to up beat hip hop.
This is all a part of their pre-race preparation, but these races are different: They are the National Collegiate Athletic Association Division III Swimming Championships. "Everyone these is fast," said Hudgins. "Nobody is slower than you."
Hudgins, Hamilton, Haufler and Tam were invited to compete in 10 events at the swimming championships, which were swam back on March 18-21 at the Conroe ISD Natatorium in Shenandoah, Texas.
Hamilton, who was rookie of the year in the University Athletic Association (UAA), qualified in the 500-yard freestyle 400 IM and will also swim in the 1,650 freestyle. Hudgins swam in the 200-yard backstroke, his CWRU record-breaking race. Tam swam the 100-yard butterfly and the 200-yard fly. Finally Haufler swam alongside his teammates in the 800-freestyle relay, the 200-yard free relay, the 400-yard free, the 800-yard free and finally the 400-yard medley relay.
The team earned All-American Honors for their 800-yard freestyle relay performance, after placing 14th and finishing with a time of 6:45.37.
"We were all like, 'Damn, this is really fast,'" said Tam of their first day at the championship races. "After that, though, we got used to it."
"The nerves are always there," said Hamilton. "It's just like any other race."
"It's really loud above the water," said Tam. "When you are in the water, it's just you. You kind of let your mind go blank and focus on the goal."
"For me it's just tunnel vision," said Haufler. "It's just you and your thoughts, and I'm telling my arms to pull harder."
Each swimmer has a different preference on where he wants to race from, though. Hamilton likes being right in the middle. Tam wants to be placed right or left of the top seed, giving him the motivation to catch the supposed fastest guy in the pool. Hudgins is most comfortable swimming two lanes removed from the middle. However Haufler thrives for an "outside smoke," which is where the racer in the farthest outside lane, ranked the lowest, ends up beating the rest of the field. "My favorite race was the 200-freestyle relay race at the UAA championships a few years ago," said Haufler. "We were seeded in lane eight, dead last, that outside smoke position, and then we killed it. We came in second."
For those who only watch swimming once every four years when the Olympics roll around, the sport seems straightforward enough: be the fastest to the wall. However as all the Spartans mentioned, transferring their knowledge of the sport to their friends can be difficult. "There are multiple strokes and races are decided by tenths on even hundredths of a second," said Haufler. "Trying to explain that all our training comes down to that small of a difference can be hard to explain. In other sports, it's straightforward—the other team scored two goals or whatever."
"It's hard to try and explain that even though we didn't win, we still could've done really well," said Hudgins.
Despite competing in a more obscure sport than the team sports everyone thinks of, each of the Spartans has a love for the sport, grown since they all began swimming at a young age. Each has his own trials he has overcome to reach this level of athleticism and of success. For Haufler this marks the end of his competitive swimming career. Hamilton and Hudgins stand at the beginning of their collegiate careers. However for everyone it is the now the offseason, and both Hamilton and Hudgins are looking forward to not doing much, though they know the consequences. "Taking a day off in swimming makes a huge difference," said Hamilton. "The few weeks we go without working out affect getting back into it."
However as Tam pointed out, the offseason brings nearly as much working out, maybe just not in the pool. "I lift a lot during the offseason," said Tam. "It's all endurance training during the season, so the offseason is the only time we get to work on strength and on different lifts." Hamilton and Hudgins are new to the college process and will join their teammates in staying somewhat ready for next season, but Haufler has the biggest adjustment of all to make. "I have a lot of time on my hands," said Haufler with a smile. "I actually have time for Netflix and video games, which is really weird considering I have nearly three more hours a day." However the freedom is bittersweet. "I love racing, and it's weird knowing I won't be in my top physical form like I was while swimming," said Haufler.
As the season draws to a close, the Spartans can hold their heads high for representing CWRU at the highest level.
About the Writer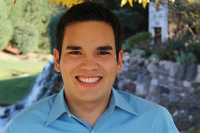 JP. O'Hagan, Sports Editor
JP. O'Hagan is powering through his third year as Biomedical Engineering major and Spanish minor, while serving The Observer as Sports Editor. JP is...