Fourth-year swimmer finishes his final year with a splash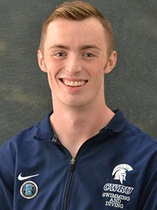 Fourth-year swimmer Drew Hamilton doesn't know why he loves the pool. He never had a family member swim competitively, and he cannot remember how he discovered his love for it. Swimming just came to him.
One defining moment in his career came in high school at the C.T. Branin Natatorium in Canton, Ohio.
"Honestly, there is no other pool like the C.T. Branin Natatorium, where there are grand stands on three sides of the pool," Hamilton said. "The atmosphere is unlike any other."
The environment for a swim meet can make all the difference, and this was especially the case for Hamilton.
Hamilton has made a splash every year at Case Western Reserve University, highlighted by his most recent achievement of receiving the Elite 90 Award at the 2018 NCAA Division III Men's Swimming and Diving Championships. With Hamilton's natural swimming ability, he has also set six school records, along with receiving University Athletic Association (UAA) All-Academic Recognition.
Out of the pool, Hamilton heavily involves himself with other student groups such as Delta Sigma Phi and Phi Alpha Delta, CWRU's pre-law fraternity. Besides Greek life, Hamilton recently started taking part in a student-athlete sustained dialogue group, which discusses challenges that CWRU athletes face.
On his own, Hamilton loves to relax and simply watch Netflix in his free time. It allows him to de-stress from all of his athletics, academics and activities. Hamilton also really enjoys listening to music. In particular, he loves to search around and discover new artists along with attending a variety of concerts.
Beyond just being a superior swimmer, Hamilton is also an excellent student, as demonstrated by his Elite 90 Award. Passion drives everything for Hamilton, and academics is no exception. He is double majoring in accounting and Spanish, each of which he said he simply loves. He was drawn to Spanish in particular after a high school trip to Costa Rica, during which he become even more fascinated with the culture and language.
Following completion of both his degrees, Hamilton will be attending the Moritz College of Law at The Ohio State University. He hopes to end up focusing on business or corporate law while putting an emphasis on tax law.