Fourth-year wrestler driven by competitive nature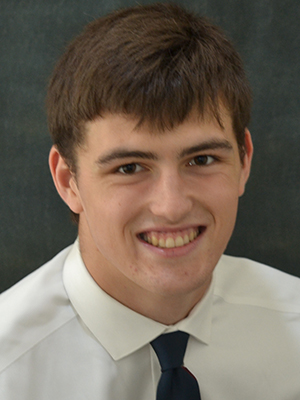 Gavin Dersh-Fisher is a fourth-year student and wrestler on the Case Western Reserve University wrestling team. Last season, he earned a 21-13 record along with National Wrestling Coaches Association Scholar All-American recognition. He decided during his second year of college to switch into polymer science and engineering because he wants to take something small and relate it to the big picture. He also has a strong passion for the environment.
What is your favorite part of being on the wrestling team? Why?
Though wrestling isn't always viewed as a team sport, I like the camaraderie that comes with being part of a team. Each year I feel like the team gets closer, and the returning individuals grow as people. Furthermore, I enjoy the competitive atmosphere associated with college athletics. It gives me something to work toward when I'm fed up with school.
Where did you get your passion for wrestling? Any good stories?
I started wrestling back when I was in sixth grade. A friend and I agreed that we would both show up to a preseason practice to see how we liked it. He never showed up, but I did. I stuck with it through high school, where I was the captain my senior year. I came from a very academically focused school, so our team was never that big. There were two or three tournaments during my senior year where I was the only athlete from my school to attend. During the sectional tournament my senior year, I came one match away from qualifying for the state tournament. I lost 3-2 to a guy I had beaten in the quarterfinals the previous day. I was heartbroken, but after talking with a couple coaches and seeing [that CWRU] had a Division III team, I wanted to continue my passion and pursue wrestling in college.
Do you have any games that you remember being particularly special? Why?
I think from college, one match in particular that stands out is my very first match my [second] year. I was wrestling against a redshirt [first-year] from Kent State [University], who afterwards I was told was a state placer in Ohio the year before. Going into the match I was nervous because I knew this guy was from a Division I school, but I won by pin. After [my first] year where I felt subpar, winning this match just justified that all the hard work I had put in during the offseason was paying off. It also told me that I could compete with wrestlers at any level, and I had the skill and drive to compete.
Aside from wrestling, what else are you involved in on campus? Can you explain what you do in them?
I used to be in Beta Theta Pi, but I dropped it after my [second] year. I'm not really involved in any other organizations on campus. The closest thing would be my research lab in the macromolecular science and engineering building where I work on looking at the physical interactions between polymer grafted nanoparticles.
Why are you majoring in polymer science and engineering? What interests you about it?
I chose polymer science because I felt that as an engineer I [would be] able to take something small and relate it to a larger picture. I chose polymers because I enjoyed chemistry more than I enjoyed physics.
What do you hope to accomplish with the degree?
Along with my undergraduate degree, I am also pursuing a [master of science] degree as part of the BS/MS program. With both of my degrees, I hope to pursue a job in industry. Ideally I would like to work for a company that is environmentally conscious, where within the company I hope to work within the manufacturing department.
What are your favorite free time activities? Why?
As a kid, my dad always brought me along on hikes and backpacking trips. He also got me into climbing. In my free time I really enjoy rock climbing, hiking and, when I get the chance, backpacking. A group of my friends on campus really enjoy mountain biking, so every once in awhile I will join them.
What is your favorite quote or what inspires you?
What inspires me is the supporting cast I have around me. My parents are incredibly supportive of everything I do. I have a good friend group from both high school and CWRU that have helped me make it to this point. Seeing other people succeed inspires me to work harder so that I may succeed.