Free Speech panel addresses safe spaces, freedom of press, White supremacists, and hate speech
On Oct. 30 at the Tinkham Veale University Center, Case Western Reserve University held "Freedom of Speech: Understanding Our Rights in Troubling Times," a panel with five experts that discussed free speech on college campuses, Richard Spencer's brand of white supremacy, safe spaces and most recently, the threatening homophobic flyer hung at Cleveland State University. Dan Moulthrop, the chief executive officer of the City Club of Cleveland, moderated the event.
Jonathan Adler, the inaugural Johan Verheij Memorial Professor of Law at CWRU; Jessie Hill, Associate Dean for Academic Affairs; Judge Ben C. Green, professor of Law at CWRU; Kevin O'Neill, an associate professor at Cleveland-Marshall College of Law and Afi-Odelia Scruggs, a decorated journalist who has wrote for the Cleveland Plain Dealer and hosted various radio programs on NPR all sat on the panel.
Each brought their own unique experiences and views on freedom of speech to campus, but all expressed a similar theme: The power to regulate speech ought to be used carefully. Dr. Marilyn Mobley and Professor Adler presented the panel's topic to CWRU's Board of Trustees. The experts sat in front of the microphone, peering out into the crowd of students, staff members, professors and others in the community who wished to engage in civil discourse on issues surrounding the freedom of speech.
"The thing that keeps me up at night, [from] when I taught history of journalism about 10 years ago, [is] a line that stood out," said Scruggs. "It basically said that 'the press has as much freedom [as freedom] of speech allows it.' And I think at this point we're at a very dangerous juncture because society does not really want to hear opposing sides. Society's view of freedom of speech is that free speech that agrees with me should be free."
"The problem is: How do you vest the government with the power to stamp out views without stamping out the views that we do like?" added O'Neill. "There were 2,000 people criminally prosecuted for protesting during WWI, some of them were given 10 year sentences … frankly, I wouldn't want to give Donald Trump the ability to control what I can say."
O'Neill teaches First Amendment Rights, Civil Procedure and Evidence at Cleveland-Marshall College of Law, so he outlined the forms of speech that were unprotected by the First Amendment: Obscenity, child pornography, the advocacy of imminent lawless action, fighting words and true threats.
"Speech that falls within those utterly unprotected categories can be criminalized," said O'Neill.
Moulthrop kept him on his toes with a quick question. "Where does, 'the Jews will not replace us' fall?"
O'Neill left "Hate Speech" off the list because it is protected under the First Amendment. RAV v. City of St. Paul in 1992 made unconstitutional to create laws beyond those unprotected categories that would punish on the basis of race, color, creed and religion. A year later in 1993, Wisconsin v. Mitchell upheld longer sentences for crimes committed on those same basis. Hateful conduct differs from hateful speech or expression. Professor Jessie Hill noted that this unpopular but lawful speech should be allowed on campuses.
"I think that's the role of the university," said Hill. "What are we here for if not to put good ideas and bad ideas together and argue to see which one is right? I think they should be the spot for this type of debate."
The speakers spent a considerable amount of time responding to Moulthrop, but towards the latter end of the event opened up for questions. One audience member asked about another pressing issue with free speech on campuses, safe spaces.
"My concern about safe spaces is suppose you are inquiring, suppose you just want to know. And you walk into a third world center or LGBTQ+ center, and you get the side eye and you get the cold shoulder. Cause this is safe space, and you are not supposed to be here," said Scruggs. "Now what's the difference between that and the rules that kept [blacks] out of the the University of Virginia until [about] 1972? Because this is a safe space for a certain kind of white person, and you didn't belong there…and that is my issue with safe spaces…you need a place where you can be comfortable but it cannot be exclusive because then you are segregating."
Colleges and universities across the country are continuously grappling with First Amendment rights and regulating an environment that allows for the free exchange of ideas. While public universities are bound by the Constitution, private universities have an easier time rejecting unwanted speakers.
CWRU has had its own brushes with the First Amendment, though ultimately private universities are not bound by it. Speakers from the Foundation for Individual Rights in Education (FIRE) drew ire at CWRU's speech code for being vague and overbroad. In the spring of 2016, members of Phi Delta Theta dressed up as "Mexicans" during the variety show which landed them in hot water with the Greek Life Office, a story picked up by several local media outlets. The sanctions Phi Delta Theta faced were not made public.
About the Writer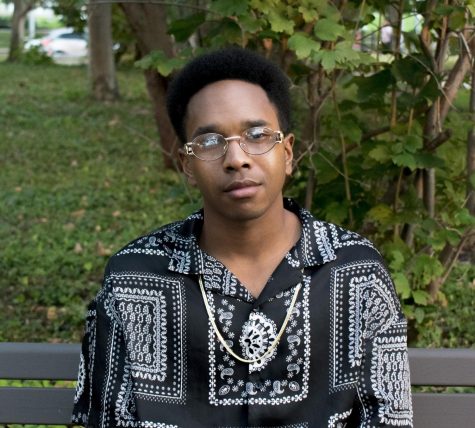 Kevin Smith, Executive Editor
KJ is a fourth-year Pre-Law student and sociology major who also minors in psychology and English. He is a Cleveland native, a member of the Emerging Scholars...