French Montana's "Jungle Rules" roars talent
French Montana is back with "Jungle Rules." The album follows his debut with "Excuse My French," back in 2013. "MC4" was meant to be his sophomore album but was leaked so Montana released it as a mixtape instead.  
Four years later and clocking in at a little more than an hour, "Jungle Rules" has to be one of the most cohesive albums I've ever listened to. Ignoring a slight hiccup towards the end, this 18-track album manages to deliver from start to finish.
The album comes following the success of "Unforgettable," featuring Swae Lee (who is one half of duo Rae Sreemurd, popular for "Black Beatles"), a song currently sitting pretty at No. 5 on the Billboard Hot 100—Montana's highest charting single to date. Montana also dropped "No Pressure" featuring Future and "Bring Dem Things" featuring Pharrell Williams before the release of the album, building up anticipation to what I believe is his best work yet.
"Jungle Rules" does what very few albums can do: span a range of genres and do it right. French swirls trap with Quavo on "Migo Montana," performs sultry R&B with Marc E Bassy on "She Workin," spits fire with tracks like "Stop It," which features T.I. and "Push Up" and gives us a taste of his Moroccan roots on "Famous" and "Bag," featuring Ziico Niico. "Jungle Rules" also has features from Travis Scott, Young Thug, Alkaline and The Weeknd, who was teasing his collaboration with Montana days before the album's release.
The album opens up with "Whiskey Eyes," which starts with a sound bite of a lion roaring and other jungle sounds, fitting for an album whose name is "Jungle Rules." This song, which features the late Chinx and female vocalist Fe, has a slow, relaxed pace which sets up the tempo of the rest of the album perfectly.
The next track is Montana's biggest hit to date, "Unforgettable," which is just that: unforgettable. The bass and keys rope you in the second the song begins. Swae sounds like he was born to sing the hook, and the beat is so infectious, you can't help but dance along to it.
"Trippin," is the first of six of Montana's solo tracks, proving that Montana can do just fine on his own. Hands down, it's my favorite track on the album.
"A Lie," featuring The Weeknd and Montana's mentor, Max B, introduces you to the rap and hip-hop that is to follow. Songs like "Migo Montana," "Stop It" and "Black Out" are pure rap and hip-hop but are so perfectly ordered that you never feel overwhelmed or get sick of the amount of rap there is. Special mention to "Push Up," which is Montana's third—and best—solo track and puts his rapping skills on display.
"She Workin" is the perfect way to introduce the climax of the album.
Things go wrong with "Formula" featuring Alkaline, a Jamaican dancehall recording artist for me. I did not like this song; for me, the Jamaican influence overshadowed what Montana worked so hard to create in previous tracks.
Montana's other three solo tracks, "Famous," "Too Much" and "White Dress" close out the album perfectly. I felt that these three tracks were simply there to remind you that Montana is a powerful artist on his own.
This album has something for almost everyone. That alone proves French Montana is a grossly underrated artist, but I hope that changes with this release.
Album: "Jungle Rules"
Artist: French Montana
Release Date: July 14, 2017
Rating: 4.5/5 stars
About the Writer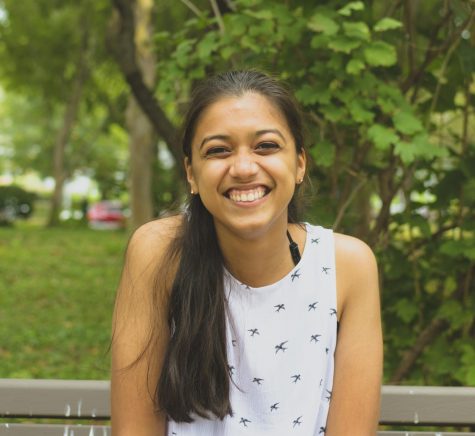 Shivalika Keni, Copy Editor
Shivalika Keni is a second-year double majoring in Economics and Physics on the pre-law track. She's been a copy editor for a year and loves spending her...