Freshman owns, operates four prominent local haunted houses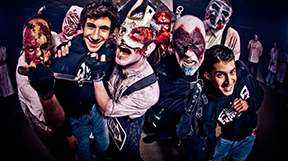 At the young age of 14, Case Western freshman Max Simon and his 17-year-old cousin, Nick Francis, made the decision to enter a "Good Morning America" contest for the best haunted house built on private property. They had no idea what a life-changing decision that would prove to be.
Fast forward a few years and the initial contest house has grown, to say the least. Today, Simon and Francis own and operate the Fear Experience, which features four haunted houses in Parma, Ohio, and brings in thousands of customers per year.
"We were dumb kids. We didn't know any better," he joked.
The first house was built in Francis's backyard. Simon and Francis, who recently graduated from Ohio State University, had to beg their parents to help fund the project.
"I still have the picture of when we got the first lumber delivery. It was just a whole bunch of plywood. We sat on top of the pile and ate breakfast. We were just so excited," said Simon.
The pair built a 1,400 square foot structure in their backyard, with a design based on their favorite classic haunted houses. The boys received the most online votes, but a misunderstanding about the rules disqualified them from the contest.
Simon and Francis didn't let this set them back, though. They decided to open their house to the public for just one night. Word got around about the two young boys who had somehow managed to build a real haunted house in their backyard, and 500 people came to see their creation.
"It was just a local two lane street, and it was packed," Simon recalled. "We learned a lot with that first house. It was just such a new experience."
With the success of the first haunted house, Simon and Francis decided that it was time to expand. The next year, the pair commercialized the project, renting out a vacant grocery store in Toledo, Ohio. The new haunted house they built was bigger and better, and with the benefit of a commercial location and increased advertising abilities, Simon said they were able to attract "just" a few thousand people.
Over the years, the business has been constantly expanding. Today, Fear Experience features four separate haunted houses, each with a different theme—a classic haunted house, an old Southern mansion, a mental asylum and a 1960's carnival theme.
"There's a lot of attention to detail, and attention to quality," says Simon.
The 90,000 square foot attraction is staffed by over 60 professional actors. According to Simon, it's one of the biggest Halloween attractions in Cleveland.
"We begin construction on the first day of summer. This isn't just a seasonal operation. It's something that we work on all year round."
Simon has big hopes for the possibilities for the Fear Experience.
"We're hoping to expand to other cities next year, so I've been doing a lot of travelling, talking to other companies," says Simon. In the next two weeks alone, he will be travelling to Texas and Columbus to talk to other haunted house enthusiasts about the possibilities for Fear Experience.
As he gets older, Simon doesn't want to be remembered as the 14-year-old boy who built a haunted house in his backyard. He wants to be remembered as a businessman who was able to build something that was innovative.
"Each year, we either add a new house, or we expand on the ones we have. The goal is always to expand," says Simon. "This year, we built this big, huge show."
"We want to make our haunted houses like Hollywood sets. Our goal is to make them as realistic as possible."
This year, the houses were open for 18 nights. Simon has no solid numbers on how many customers came through the door, but he knows that the houses are more popular than they ever have been before.
"We peak in mid-October," he noted. "Sometimes people wait for two or three hours to get in. I feel bad, because they have to wait, but it's just such a cool thing to see."
With business booming, Simon is still managing a full course load of classes here at CWRU. He is majoring in computer science, with a minor in finance.
"There was one day where I couldn't do my accounting homework because I was doing real accounting for the business," he said. "It gets hard to balance sometimes. I can't give my full attention to either work or school."
Although sometimes work and school collide, Simon has already been able to use his computer science knowledge to help the business, building computer systems to help manage employees and handle payroll.
While Simon isn't completely sure what he wants to do after graduation, he knows that he wants to combine his business and computer skills to run his own company.
Says Simon, "My goal is to never work for anybody."