Fun's over
Big Fun closes after 27 years of operation
Stepping into Big Fun Toy Store is like stepping back through time; the Coventry Village institution revels in a mix of 50s camp and 80s nostalgia. "Let's Dance" by David Bowie blasts through the store's audio speakers, and shoppers browse the novelty and collectable toys and pranks dotting the walls.
Now, after 27 years of operation, the fun will leave Coventry for good when the store closes at the end of May. The store is like the set of a John Waters film, with disgusting prank gags, like the world's largest piece of fake vomit, held up proudly like a restaurant displaying their first dollar.
The store featured more standard collectibles to go along with its unorthodox items. Smurf toys and board games based on old, forgotten Hanna-Barbera films shared the space with carnival love potions. Shelved alongside a column were several Sega Genesis boxes, one of the first popular video game consoles, along with old game cartridges such as Donkey Kong.
"This was a decision that didn't come overnight. I have been thinking about this for years. Financially it's been very tough," said Steve Presser, the founder of the well-loved Coventry shop.
Presser is not leaving the toy business entirely. Instead, he is opening a new store, called Sweeties Big Fun, with Tom Scheiman, the owner of B.A. Sweetie Candy Company. B.A. Sweetie Candy Company bills itself as the "Largest Candy Store in North America," and has its roots in the 1950s.
Sweeties Big Fun will be a mix of the best elements of the two stores, featuring Big Fun's collection of toys and Sweeties' candy, soda, popcorn and soft serve ice cream.
"For me, it's all about the shopping experience," said Presser. "That's why I hope with my new place, it will be a strong, customer service oriented, friendly place where you come shopping and leave smiling."
The store will feature decorations by local Cleveland artists. A centerpiece of the store will be an old 60s Volkswagen bus which split in half and turned into a display for 120 different types of soda. A nine-foot long Gibson Brands, Inc. guitar painted in a psychedelic design, a giant popcorn box, a rocket ship and a five-foot-tall soda bottle will be among the works which eight local artists will create to decorate the store.
"We want to people to walk in and say, 'Oh my god,'" said Presser. "I like to be surrounded by art, and my store has always been a reflection of my personality."
Presser compared the current store to an old car that would cost more to fix than its actual worth. The new store will be two-thirds of the size of Big Fun, and toys will constitute only 35 to 45 percent of the store. Presser's section store will highlight toys, greeting cards, pranks, Cleveland memorabilia, T-shirts and magic. The greatest difference between Big Fun and Sweeties Big Fun will be the volume of merchandise, as every section will be shrunken down.
"I love the place, I love the street," he said, "but it was just time to move on."
As one last hurrah, the store's entire inventory is being sold for 50 percent off. 20 percent of all t-shirt sales will go to public art in the area, and Presser plans to use the money to help fund a mural in Coventry.
The store's founder said he will miss the close-knit feel of the Coventry neighborhood and the people he came to know at Big Fun. Despite his store's closing, Presser will remain on the neighborhood's public art committee.
"It's tough. 21 years has been a long time," said Presser. "I like to think Big Fun was a special place."
About the Writer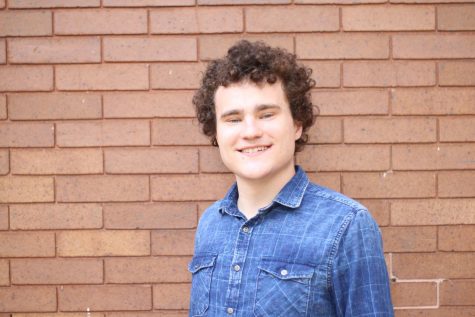 Matt Hooke, Executive Editor
Matt Hooke, The Observer's executive editor, is a fourth-year student studying English. This is his first year as executive editor after spending time...