Meet the Artists of the Gallery 1299 Opening
Located in the Warehouse District of Cleveland, Gallery 1299 had its grand opening on June 10, 2016. The unique idea of connecting an art gallery with a nightclub brings art and nightlife under the same roof. Gallery 1299 is focused on the local businesses, artists and social community. Upstairs from ANATOMY Nightclub is the gallery, with a bar and a long room that is half covered by a roof and half outdoor patio. While some patrons were distracted by the Cavaliers game, there were people wandering around looking at the pieces of art that were on display and for sale. At the opening I had the chance to talk to six different artists and learn about their inspirations, goals and technique.
Jodi Baldacci paints portraits that express an image of a person while showing you who they are, saying, "People keep showing up in my life that need to be painted." Her inspiration stems from the people she meets, especially from women she meets who have displayed tremendous strength. She describes the first painting, "Shai." The woman's hair is colorful and bright while her face, the center of the painting, is monochromatic. Baldacci explains that this watercolor painting is about how people have an "over-the-counter self" that differs from who they are when they are alone by themselves. On the outside, Shai is very vibrant and outgoing, but when she is alone she is very thoughtful and introverted. Baldacci's other painting was inspired by a woman who was not afraid to differ from and even leave her family over issues of racism and segregation. The object of this watercolor painting, "Breeze," is a confident woman named Juanita. Baldacci uses watercolors for her work and describes the process with a Bob Ross quote: "Mistakes are going to happen, do something with it." Her works are mainly portraits, and she says color and people "are [her] thing." jodibaldacci.com.
One pair of artists was mother-daughter duo Dani Klein and Carol Pitts, who inherited their art abilities and love of the craft from the grandmother, who was a head seamstress in New York City during her life. The two artists are part of the Stella's Arts studio from Lake County. Klein, the mother in the pair, said that her own mother worked with every sort of art medium. At the gallery that night they had pottery on display, which the mother and daughter work on separately. They talked of the delicacy and risk that goes into making pottery, telling me of the long process and how some works don't make it past the kiln—where they can blow up. One of the pieces at the gallery was nature-based pottery featuring an impression of a giant leaf. www.StellasArtGallery.com.
The next artist was Julie Cook, who started to sell her art in 2012 to help kids in Thailand, inspired by her daughter's work with children in the country. A portion of each of her sales is sent to helpsavethekids.org, which helps educate, clothe and feed at-risk children in Thailand. Her speciality is wall art, particularly making canvas look like a brick wall. Julie talked a lot about the importance of networking for artists, talking about her journey using Instagram to promote her art and meeting many artists for help, cooperation and community. wallexpressionsbyjulie.com.
The last pair of artists, Lee Paul McConoughey and Barbara Ann McConoughey, display female sexuality with beauty as well as strength. Lee Paul has been a professional photographer for 50 years. During a time away from his job, he saw work by glamour photographers—who photographed nude models in a "fancy and sexual" fashion—and thought that he could do it better. He uses Facebook to connect with up-and-coming models and women trying to become models for his work. For the glamour shoots, he takes a series of photographs changing pose and lighting. He always asks the models which picture is their favorite, and at the Gallery 1299 opening he was displaying two of the different models' favorite photos.
Telling me that her works are titled "Aspects of the Feminine", Barbara points out that her pieces are ironically located on either side of the male bathroom entrance. "I love women, and I feel like we are underrepresented," she says. Her pen-and-ink work of a beautiful woman and a vulva show feminine power. She went to art school for a little bit and did weaving while her children were growing up, but she spent most of her life working as a midwife. A lot of her artistic inspiration stems from her work as a midwife in 2005 in the Philippines, where she was in awe o the strength of the women there.
Gallery 1299 is now open and has a schedule of events for the upcoming weeks. You can find them on their website: http://gallery1299.wix.com/gallery1299 and on their Facebook: www.facebook.com/Gallery1299.
Leave a Comment
About the Contributors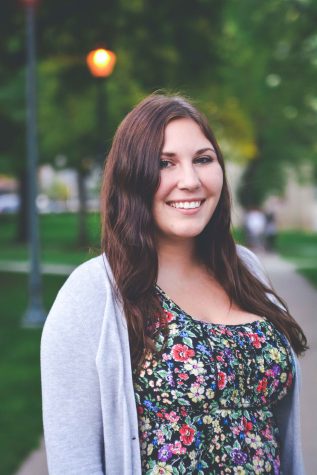 Alex Clarke, Arts & Entertainment Editor
Alex Clarke is a senior with majors in english and psychology and a minor in marketing. She also writes for Trill Mag, wrote for McClatchy newspapers for...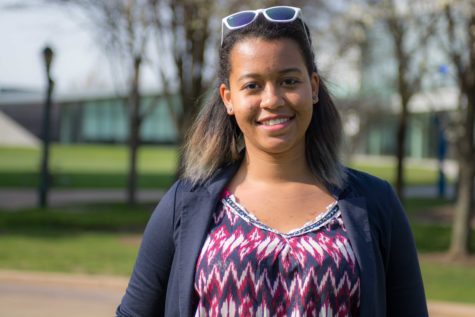 Taylor Moran, Executive Editor
Taylor is a Senior marketing major with a minors in accounting and economics. At the Observer she works as the Director of Business Operations, overseeing...