Author of "Gone Girl" visits campus in Writers Center Stage event
"I will never apologize for being readable," said Gillian Flynn during her Writers Center Stage event.
Flynn, the author of three best-selling thrillers including "Gone Girl," writes books that are almost notoriously readable. That beach read that pulled you so far in that you forgot about the beach itself? Yeah, that's Gillian Flynn.
After trying to be a crime reporter—"I was very unassertive and awkward," she said—Flynn ended up covering popular culture for Entertainment Weekly. "[Journalism] was like an apprenticeship for longer writing. You learn how to do more with less," she said. "It's a pragmatic thing that serves a novelist well."
But Flynn had "that burning sense in my belly" that she needed to write a novel, and wrote her first two books ("Sharp Objects" and "Dark Places") while still at Entertainment Weekly. After the 2008 recession, she was laid off and decided to focus on her next novel, which became "Gone Girl." The book, about the disappearance of a seemingly perfect woman and the resulting suspicion her husband faces, has sold more than eight million copies.
While trying to find a publisher for her first book, which features the kind of angry, violent women that Flynn has become known for, many publishing houses were not interested. "They said 'No one really wants to read about dark women,'" said Flynn. In early versions of her second book, the narrator was bright and peppy, despite being the survivor of her brother's apparent massacre of her mother and sisters. "I deleted her … I thought: She's not salvageable. She's gotta go."
The talk and Q&A session wasn't all about horror and darkness, however. Flynn can be as funny on stage as she is on the page. She described how she went by herself to a friend's cabin to celebrate finishing "Dark Places," her second novel. "I brought champagne, and I started to realize I was saying goodbye to these characters," Flynn said. "So I'm crying and drinking, and I ended up watching a really long biography of Eleanor Roosevelt."
She also offered tips for aspiring writers. "There's absolutely no way to write your book but to write," she said. "Writing often sucks. All writers who end up being published are just stubborn."
In response to a question about why she loves mystery thrillers, she said: "We're all as a society generally exhausted. People are tackling these really interesting topics and almost tricking people into reading it, by attaching it to this great engine, the mystery novel."
Flynn described the first story she wrote, a "Little House on the Prairie"-inspired short story called, "To the Outhouse," in which a little girl is devoured by wolves just outside her home.
"So I've always been like this," she said with a laugh.
Leave a Comment
About the Writer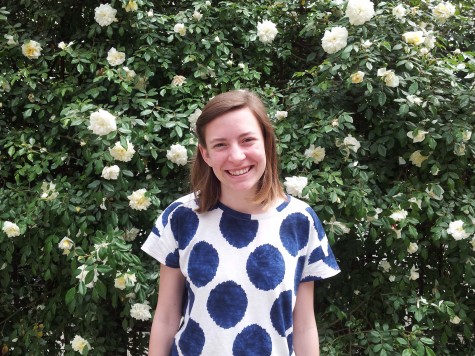 Ellie Rambo, Arts & Entertainment Editor
Ellie Rambo is the arts and entertainment editor for The Observer. She is a senior English and Cognitive Science major, and a minor in Russian. Ellie has...