Golden Gate survivor Kevin Hines sparks a dialogue about mental illness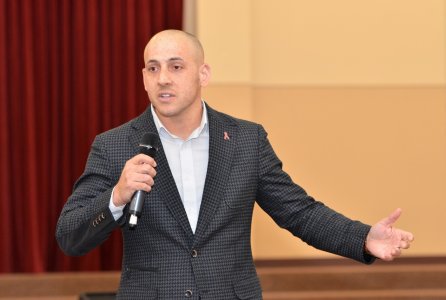 This article contains descriptions of attempted suicide that could be offensive or disturbing to some readers. 
"Of the thousands that have died of the Golden Gate Bridge, I am of the one percent who have survived."
These are the words of Kevin Hines, a mental health advocate, award-winning speaker, bestselling author and documentary filmmaker who came to speak on campus. On Tuesday night, he spoke to students, faculty, staff and community members in a talk titled "Cracked Not Broken." The event was hosted by University Health and Counseling Services at the Linsalata Alumni Center. 
"I was able to see Kevin about a year ago at a conference and his speech, in particular, is very inspiring and very moving, and I think it's time that we just talk about it," said Melissa Hendricks, associate director of wellness and health promotion at University Health and Counseling Services. "We talk about mental health and suicide prevention bluntly, just how it is. And he is very engaging as a speaker and I think that mental health is something that we all are dealing with—students, faculty, staff, everybody." 
When asked what she hoped audience members would take away from the event, Hendricks replied, "Hope."
"There are resources available on campus and there's help for them here if they need it. And they're not alone," she said. 
Hines was born to parents with substance abuse issues. When he was a baby, he was adopted by Patrick and Deborah Hines. In fourth grade, he began experiencing auditory and visual hallucinations. As he grew older, he experienced symptoms of mania and at age 18 was diagnosed with bipolar disorder. That same year, he went to live with his father, Patrick. He suffered from depression and became increasingly suicidal, and he experienced auditory hallucinations telling him he had to die.
On Monday, Sept. 25, 2000, Hines describes waking up his father at six in the morning to tell him he loved him, thinking he would never see him again. After Hines was dropped off at City College that morning, he took a bus to the Golden Gate Bridge. He described how, upon arriving at the bridge, a woman stopped him and asked him to take her picture. After a five-minute photo shoot, the woman walked away.
 "My brain said, 'nobody cares,'" Hines recalled as he described the encounter. "I ran forward and I catapulted myself over that rail and it was an instantaneous regret." 
Hines fell 220 stories in four seconds at 75 miles per hour. When he hit the water, he missed severing his spinal cord by two millimeters.  
"Twenty-five of the 39 who survived are still alive," said Hines. "Five of them can stand, walk and run."
After his fall, Hines swam 70 feet to the surface. He struggled to keep afloat but miraculously, a mysterious creature swimming beneath him supported his body in time for the Coast Guard to rescue him.
Hines has been hospitalized for mental illness nine times since his attempt. He is still chronically suicidal, but explained passionately that he would never allow his life to be ended in that way. He stressed the same message in his speech. 
"Repeat after me," Hines told the audience. "My thoughts will never become my actions." 
Hines has since dedicated his life to saving others struggling with mental illness by sharing his story. You can learn more by checking out Hines' YouTube channel.
People who want mental health assistance can contact the National Suicide Hotline at  1-800-273-8255 or University Counseling Services at 216-368-5872.