Greek rollover seeks project with student life impact
Currently $66,000 sits in a Panhellenic Council/Interfraternity Congress bank account, set aside for improvements to the Tinkham Veale University Center (TVUC). It has been there several years, but current leadership hope that the account will soon be empty.
In 2010 the Student Executive Council noticed $83,000 in accumulated rollover in the Panhel/IFC budget and voted to allocate them significantly less money for the next semester. Panhel/IFC called for a referendum against the decision, which then passed, restoring their allocation.
In that referendum, Panhel/IFC pledged that, should it pass, they would set aside that $83,000 for an addition to the soon-to-be-built TVUC that would enhance the student experience. They created a committee of both Greek and non-Greek students to decide what specifically the money should be used for at the time, but it did not find a solution that would be mutually agreeable for Panhel/IFC and the university.
Around 2013, there was a matching campaign for donations, so the money was doubled to $166,000.
Because the former Greek Life Office (GLO) Director Wesley Schaub had left around the time that the referendum occurred, Panhel/IFC decided to spend $100,000 of that fund to name the area of the TVUC outside the GLO after him. After that, $66,000 was leftover, and remains today.
Because the leftover money is technically a result of the TVUC donation-matching and it has been specifically designated into an account for a project in the TVUC, Panhel/IFC must now find a use for it within the university center. They had considered buying lights for the large wall of windows, but that was determined to be impossible, due to humidity and other factors.
TVUC General Manager Randy Barnes has been working with Panhel/IFC to find potential uses for the money. He has suggested a list of possible uses, but for one reason or another Panhel/IFC has found them all to be un-ideal. One example out of that list was some audio/visual equipment. Panhel/IFC didn't think that it would be a permanent enough improvement to student life, and it only would have used about half of the $66,000, so there would still have been money left over.
"We're a little bit back to square one," said current Director of Greek Life Mark Starr.
Starr had wanted to determine a home for this money before the mid-year elections this year when Will Oldham and Gina Belli, IFC and Panhel presidents, respectively, took over. However last year's leadership was once again unable to allocate this money, so the responsibility has carried over. According to Belli and Oldham, they do want to find a use for this money.
"We're hoping to come up with a solution to find the end solution," said Belli. "We're not just like, 'Oh, I hope we get an idea.'"
In the past, this money had accumulated largely because Schaub believed in having money saved in case large projects or sudden expenses came up. According to Starr, it was "in his DNA" to be frugal.
While the GLO Director can veto unwise spending, Starr says that as Panhel/IFC advisor his main job financially is to help the boards allocate funds well.
While Panhel/IFC does still have rollovers sometimes, they are typically nearer to a couple of thousand dollars, and they are immediately reinvested into Greek Life. For example, chapters are typically allocated about $400 each, but they can request additional money for projects or events out of the last semester's rollover. In addition, Starr says that much of the recent rollover will be spent on Greek Life's 175th anniversary celebrations next year.
"It's good budgeting to have some money left over," said Starr—but not $83,000 worth of money.
Over five years since this money was first pulled out of the Panhel/IFC budget and set aside for improvements to the TVUC, Starr would love for it to be finally spent and gone.
"It would be nice to get this money spent and not worry about it anymore," he said.
Leave a Comment
About the Writer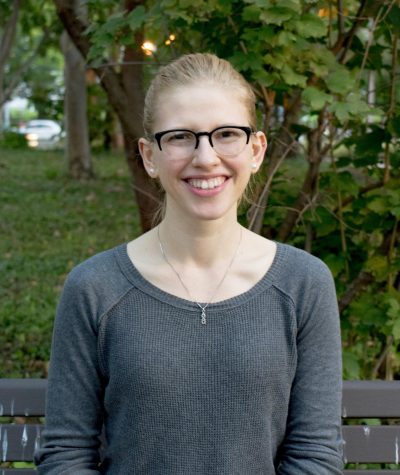 Aquene Kimmel, Director of Web and Multimedia
Aquene Kimmel, Director of Web and Multimedia, is a fourth-year English and French major. She is also Editor-in-Chief of The Athenian and a member of Pi...