Concert calendar: A look at this week's upcoming performances
Every week in Cleveland is a week to see live music. But, like any other week, it's difficult to see them all. Dozens more of Cleveland's concerts are just waiting to be experienced.
For a head start to choosing a week of music, here are five upcoming Cleveland shows:
Date: Sept. 18, 2015, 9 p.m.
Band: Joyce Manor/Cheap Girls/Tracks
Venue: Grog Shop
Price: $15
Joyce Manor is exactly the kind of sloppy punk rock that goes well with a Grog Shop $4.00 Tall Boy on a Friday night on Coventry Road. All you need is a pair of ripped jeans and your favorite Misfits shirt, and you're good to go. Mosh all those weekday stresses out of your system.
Date: Sept. 18, 2015, 8:30 p.m.
Band: Bully/Heat/Fake Limbs
Venue: Beachland Tavern
Price: $10-12
Grunge-pop Bully has a way of sounding upbeat but down and dirty at the same time. Their music is the equivalent of driving around in a red convertible until suddenly you're surrounded by a big cloud of smog. Angry, shouty smog.
Date: Sept. 22, 2015, 7:30 p.m.
Band: Godsmack/Breaking Benjamin
Venue: Jacob's Pavilion at Nautica
Price: $45-$71.25
While Godsmack has maintained its current lineup of band members through most of its existence, only the singer (Benjamin Burnley) from Breaking Benjamin remains as a founding member, even while battling a torturous mystery illness. That's dedication. Rock on.
Date: Sept. 23, 2015, 7:30 p.m.
Band: ZZ Ward/Marc Scibilia/The Young Wild
Venue: House of Blues
Price: $20-$23
In a world of singer-songwriters singing about their relationships, ZZ Ward breaks away from the norm. Ward's approach of hip hop, blues and soul is delicately balanced with a world that's usually dominated by either the heartfully acoustic or synthetic bass drops. And it's sexy as hell.
Date: Sept. 24, 2015, 9 p.m.
Band: The Ghost Wolves/Duo Decibel
Venue: Happy Dog (Detroit Road)
Price: $5
Where better to spend a "Thirsty Thursday" than your friendly neighborhood Happy Dog? Granted, this one's a little further away from campus, but for The Ghost Wolves, it's worth an extra 10 minutes in the car. Enjoy the DIY-ness of this punky band at their intimate show, and grab some tater tots while you're there.
About the Contributor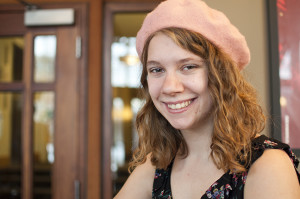 Anne Nickoloff, Director of Print
Anne Nickoloff, the Director of Print for The Observer, is a senior at Case Western. She hopes to one day be a music journalist, and has spent much of...