Halsey's new album "Manic" is raw and reflective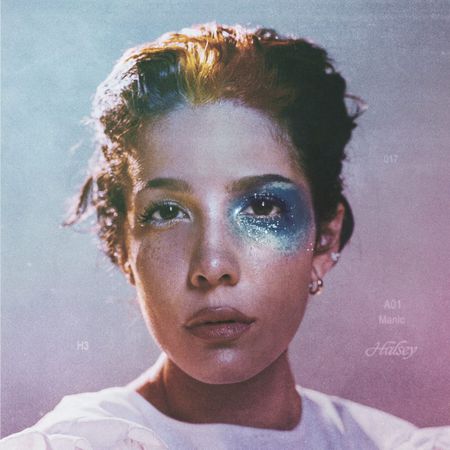 On Jan. 17, Ashley Frangipane, better known as Grammy-nominated singer Halsey, released her highly anticipated third studio album, "Manic."
Since her debut studio album "Badlands" was released in 2015, Halsey, 25, has quickly become one of the biggest artists of our generation, producing songs that span genres like pop, R&B and indie, while telling powerful stories through her raw lyrics.
"Manic" is packed with 16 tracks, featuring many artists such as Dominic Fike, Alanis Morissette and BTS's SUGA. Leading up to the album's launch, a few singles were released, including "Without Me," "Graveyard," "You should be sad," "Finally // beautiful stranger," "SUGA's Interlude" and "Clementine," with the first two songs reaching #1 on the Billboard Hot 100. 
The album was released just days after her music video premiere for her newest single, "You should be sad," on Jan. 9.
The songs are incredibly raw and offer an introspective look into Halsey's true self, Ashley Frangipane. The album even opens up with the track "Ashley," which introduces her listeners to her actual identity, rather than the self-created character "Halsey," named after Halsey St. in Brooklyn, New York, the street where a 24-year-old man who she was romantically involved with at the age of 17 lived. 
"Starting the album with my real name is a comfortable entry point for people, like saying, 'Hey, I'm still here, but I'm going to take you down on a different journey right now,'" Halsey said. "A lot of this album was written as I became more aware of my mortality."
No two songs on the entire album are alike, yet they all tell a story of Halsey's life up to this point. The entire album, which was created over a time span of two years, acts as a narrative, taking the listeners on a journey throughout her life in her 20s, including all of the heartbreak, vulnerability, sadness, fame and happiness that has come along with it. "Manic" also takes a look into Halsey's brain and reflects on herself and her emotions. "Ashley," "clementine," "929," "Still Learning" and "3am" are just a few songs off of the album that are story-like. They reflect the inner workings of her brain and explain her true self—Ashley Frangipane—and the struggles she faces.
The album is Halsey's most diverse to date, including alternative and pop upbeat tracks, as well as beautiful ballads, punk-rock anthems, hip-hop and even country songs. These different genres help to showcase and highlight the wide range of emotions present on the album. On one hand, songs such as "You should be sad," "Graveyard," "Without Me" and "Dominic's Interlude" all feature the harsh reality of breakups. On the other hand, the song "Finally // beautiful stranger" is an extremely beautiful portrayal of love, which Halsey explains she wrote as a "wedding song."
In an interview with Billboard, Halsey explains "the reason this album ended up becoming what it is, which is a very, very personal conversation." 
"It's part of the reason I've been using a lot of Ashley talk in this album, because it does feel very much like a look behind the curtain in a way," she said. "A curtain I never intended to put up but it's just kind of there, because I was young and scared of showing—I didn't know who I was deeply so it was irresponsible for me to tell the whole world."
The album is an incredible autobiography about her life as both Halsey and Ashley, and the struggles that come along with both. The songs are raw, tender, ambitious, angsty and, more than anything, they are incredibly real and reflective. As a result, "Manic" is one of the best albums she has released to date.
Album Rating: 4.5/5